Galen's Collection
of the world's greatest concert grand pianos!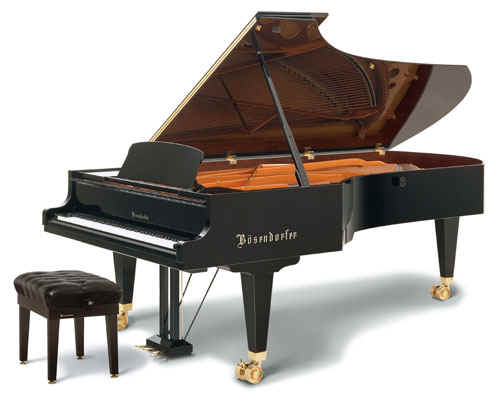 The Concert Grand is the ultimate and finest of any piano manufacturer's products. They are meant to be used at the great concert halls, symphonic stages, and opera houses of the world. They are often "too much piano" for an ordinary house, and can be overpowering in a small room (kind of like having a tiger for a pet). But in an auditorium, where their sound is allowed to properly unfold and resonate, they are the most magnificent products of the piano craftsmen's art.
Below are pictures of most of the world's great concert grands (plus a cool oddity, the red "Ferrari" model). Any manufacturer makes several sizes of grand pianos, with the measurement being determined by the length of the instrument from the keyboard to the end of the tail. Most concert grands are around nine feet long, though the Bösendorfer Imperial is 9½ feet and the Fazioli is 10 feet. (The Bösendorfer even has nine extra keys, making it overall the largest of them all.) The advantage of a longer piano is that the strings are also longer, and that is what produces the great power and richness of the concert grands, allowing them to be easily heard clear to the back of a concert hall, even when accompanied by a full symphonic orchestra all playing at the same time. Concert grands are only produced by the finest and most experienced manufacturers, often in very small quantities such as only 10 a year from any particular brand. They can cost up to $300,000 for the normal black models, and much much more for those with special carving, elaborate wood-work, and fancy veneers. Manufacturers of mass-produced, lower-price pianos seldom make concert grands, because concert halls or professional pianists would be unwilling to buy such a piano with the reputation of a budget brand. The companies that make concert grands have a tradition of excellent hand-craftsmanship and many of them have been in existence for almost 200 years. Several of the companies have been owned and operated by the same families since they were started in the early 1800's, and have a very prestigious image in the piano world.
Whatever you do, don't insult these magnificent instruments by calling them "baby" grands! Most people inexplicably think that any horizontal piano is a baby grand -- but how can any species exist if it is composed entirely of babies? Where there are babies, there must obviously be grown-ups too -- and there are; besides the concert grands, there are parlor grands, studio grands, salon grands, and semi-concert grands, depending on the length. Baby grands are those models that are only 5 feet long or less, front-to-back. They are seldom meant to be serious, professional instruments (you can get longer strings even in some upright pianos), often being referred to by musicians as "piano-shaped objects", or "noisy furniture", and have the reputation of being bought mainly for decoration by society dowagers, to be parked in the bay windows of their elegant living rooms, which of course quickly destroys whatever musical ability the instrument ever had by exposing it to daily variations in sunlight and temperature. In spite of all this, there are a few baby grands (the most expensive ones of course) that are nice pianos. Most budget brands nowadays though are made in China or Indonesia.
Since it can be hard to know the proper term for any particular piano you see (whether it's a concert, studio, parlor, baby grand, or whatever) (and the manufacturers aren't even very consistent with the terminology either), just refer to any of them as a "grand piano". In German they are called "Flügel" pianos (wing-shaped), in French they are "pianos à queue" and in Italian "pianoforti a coda" (pianos with tails).
Japan started producing pianos over 100 years ago, and they (Kawai and Yamaha) have gone on to be known for excellent quality in their larger models. Korea got a later start (Samick, Young Chang, and Sejung), and make good instruments but have not yet achieved the reputation for finest quality, though they may get there. Both the Japanese and Korean companies have some factories in Indonesia, where they make their lower-priced pianos. However, China now makes more pianos than any other country in the world by far. Many are of just average quality, but all are vastly improved over their efforts from a generation ago, which were often quite dreadfully inferior products. Hailun, Pearl River, Dongbei, and Xinghai all make some nice pianos, but still suffer from their original bad reputation. Most of their products nowadays have European-sounding brand names, preferably German. If your new piano carries the name Ritmüller, Fandrich, Feurich, Brodmann, Perzina, May Berlin, Palatino, Kayserburg, Falcone, Cristofori, Heintzmann -- it's Chinese. This isn't necessarily bad; many Chinese companies have linked up with very reputable old European companies, who have helped the Chinese with their designs, specifications, and manufacturing techniques. Even Steinway of New York City has its Essex models made in China, to Steinway's own specific designs. And several good European brands have certain parts made in China or Indonesia, which are then shipped to Europe to be finished to their own stringent quality standards.
So, much like the auto industry, pianos nowadays can have parts from anywhere, assembled in any of several different countries. However, the great concert grands shown below are all still pure examples of excellent piano-making from skilled craftsmen at original, highly reputable manufacturers, many with a great history stretching back to the most famous composers and performers from centuries ago; Chopin had his Pleyel, Mahler his Blüthner, Brahms his Bösendorfer, and Liszt his Bechstein.
---

August Förster, Löbau, Germany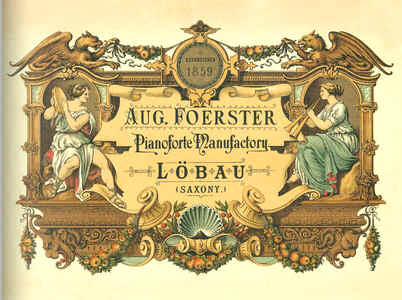 Model 275 "Super Mondial"
Length 275 cm. / 9' 1" --- Weight 550 kg. / 1210 lbs.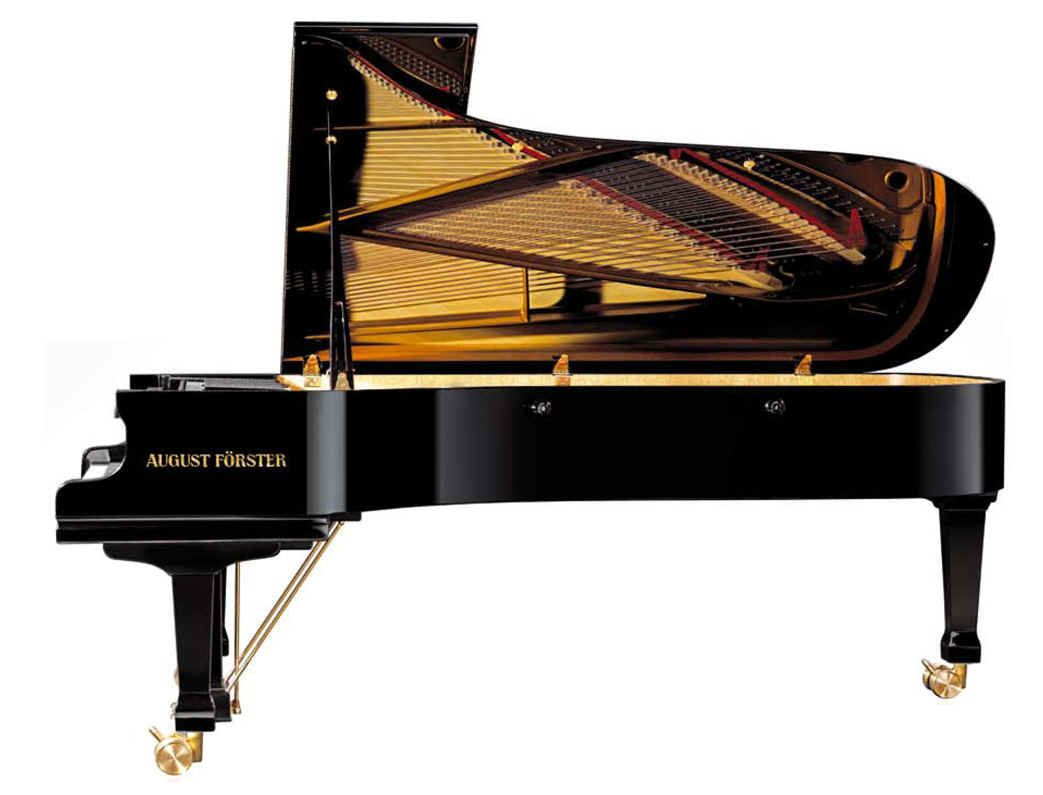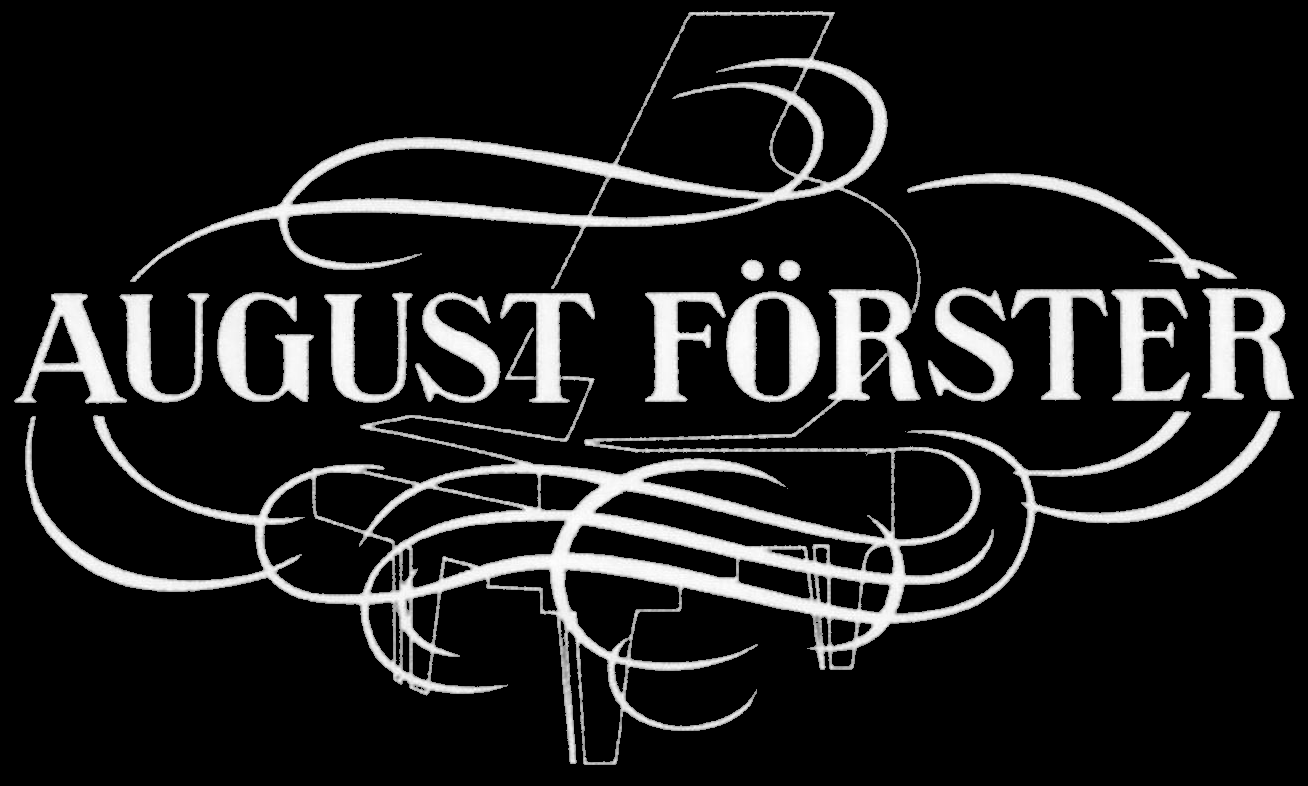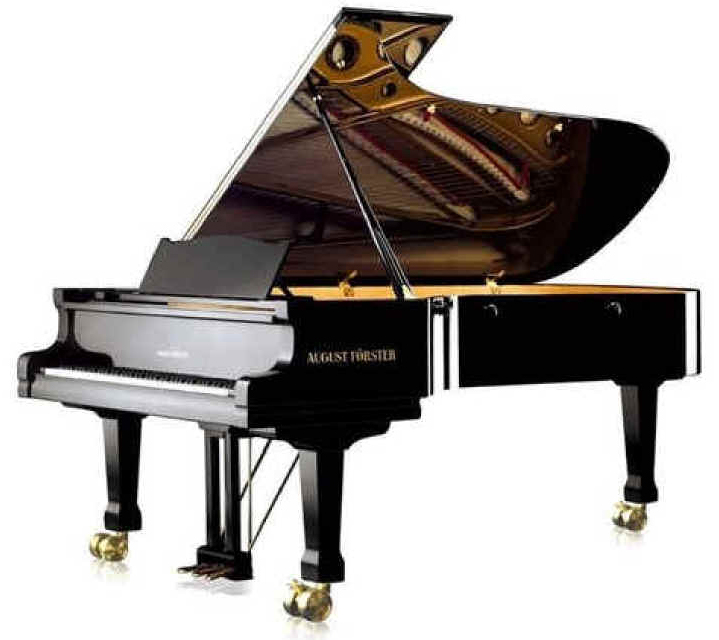 ---
Grotrian -- Braunschweig, Germany

Concert Royal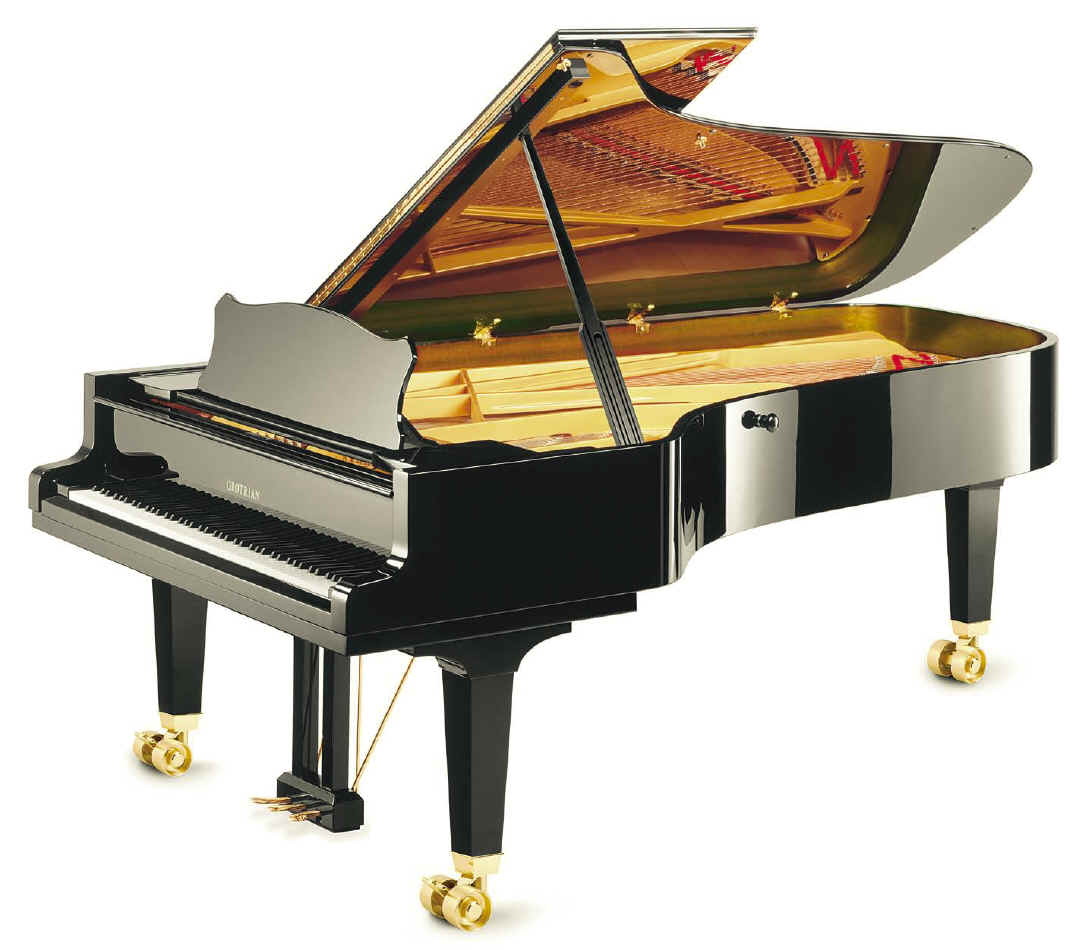 277cm x 156cm x 100cm 550kg

Only about 20 Grotrian Concert Royals
are produced annually.
Each one requires 8 months of manufacture.
---


Model E-272
8'11" / 272 cm
1010 lbs / 458 kgs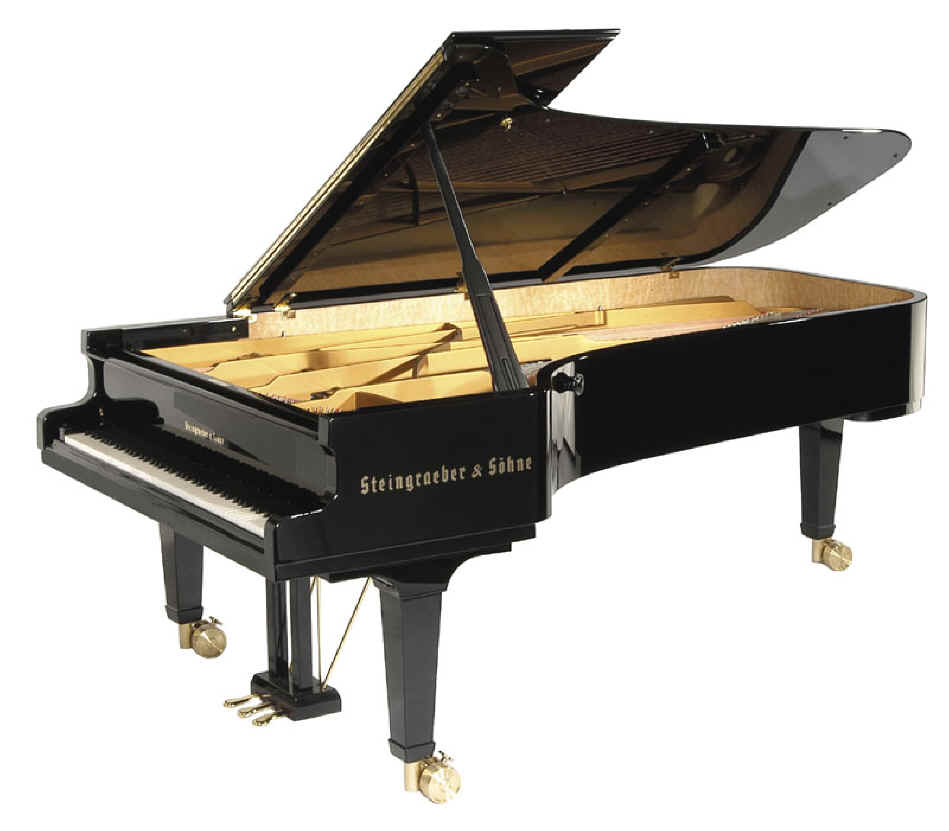 Steingraeber pianos, made in Wagner's town of Bayreuth,
are some of the rarest and most highly prized of all pianos,
because of the extremely small number produced each year.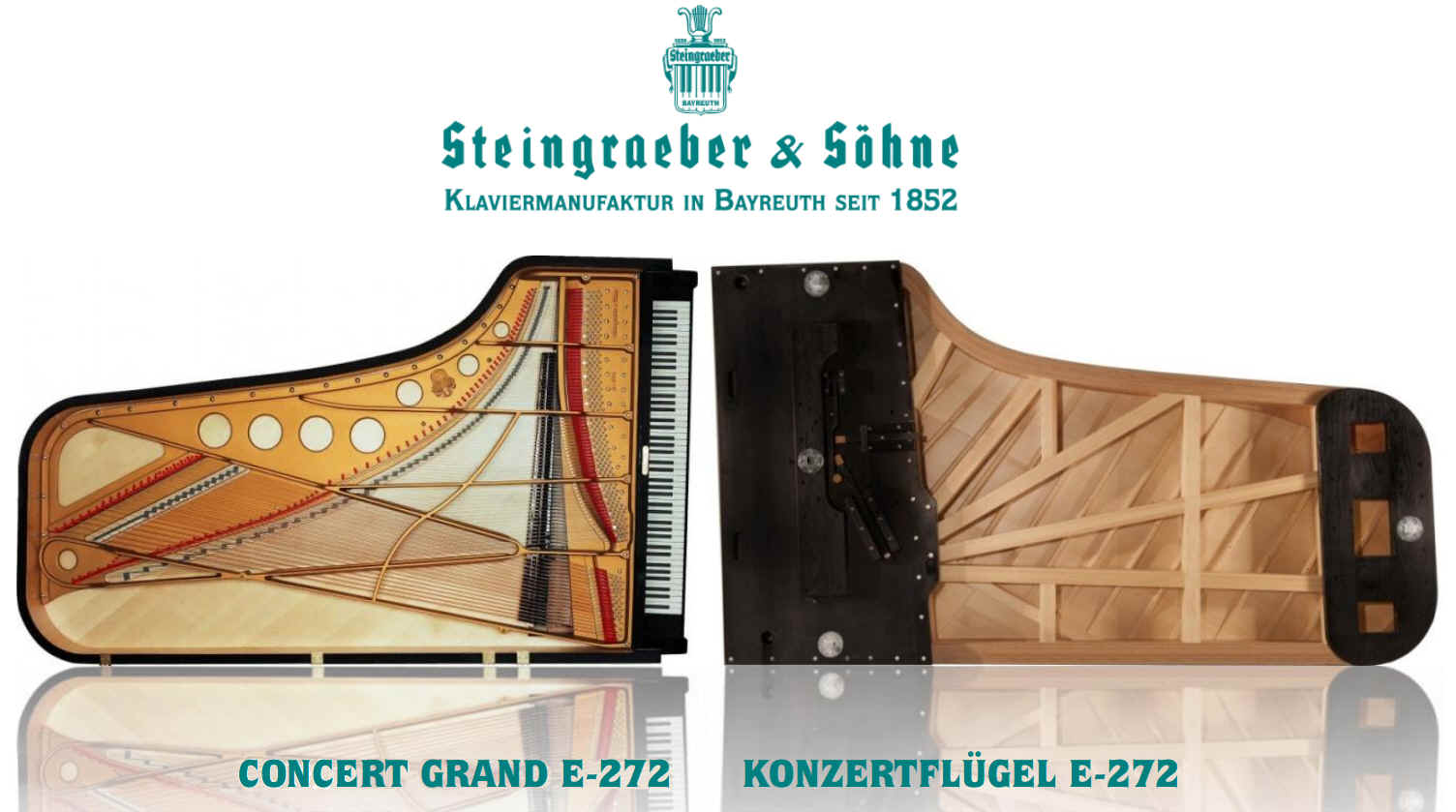 ---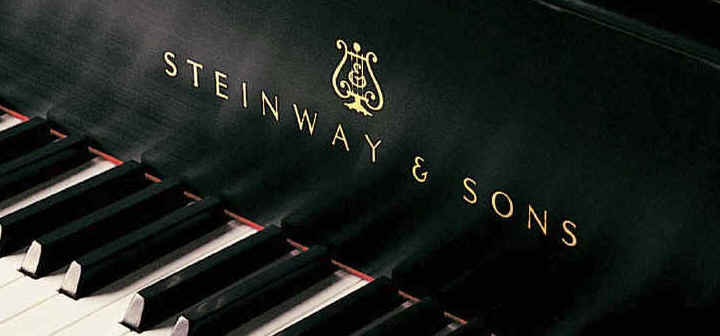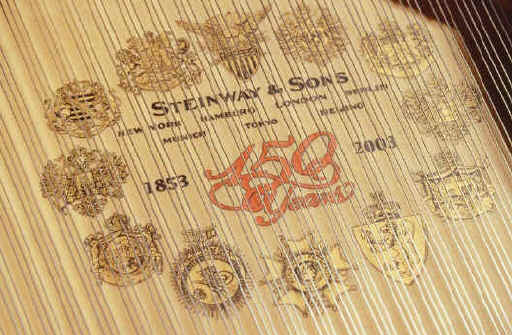 STEINWAY & SONS
NEW YORK CITY and HAMBURG, GERMANY
Model D Concert Grand

9' 11 3/4" (274 cm) 990 pounds (450 kg)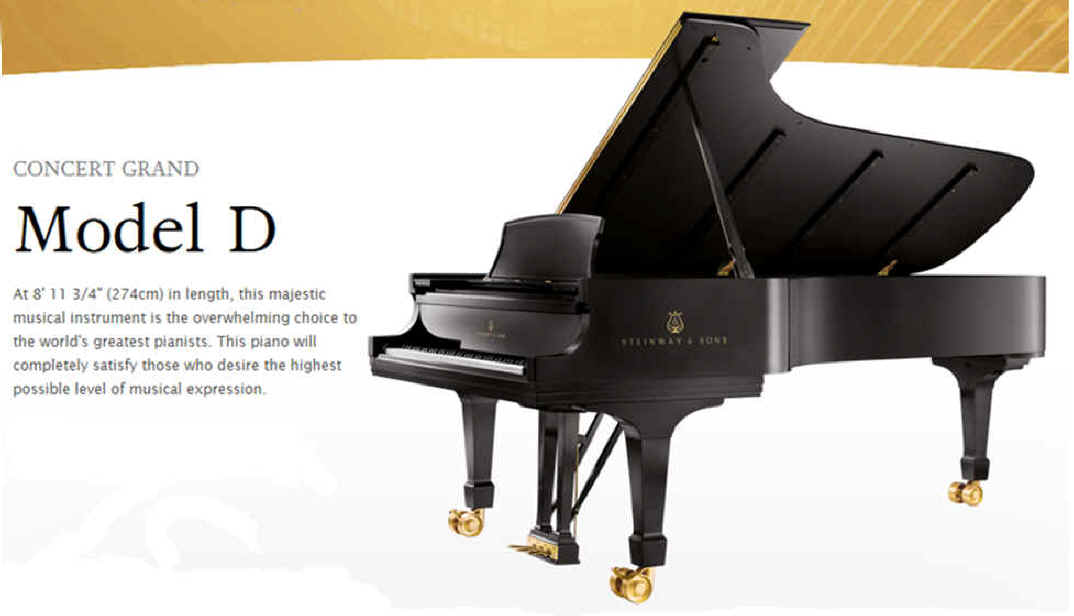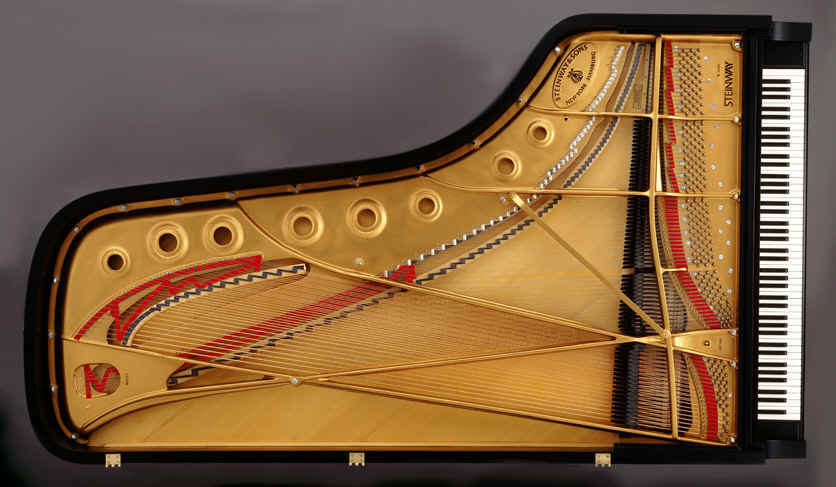 Steinway has long been the most famous American brand of piano.
The main factory is located in New York City.
However, the pianos made at their other factory in Hamburg, Germany
are often considered of even finer quality.

---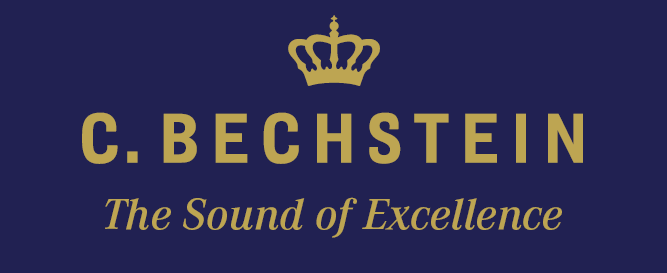 BECHSTEIN PIANOS -- Seifhennersdorf, Germany
Founded by Carl Bechstein in 1853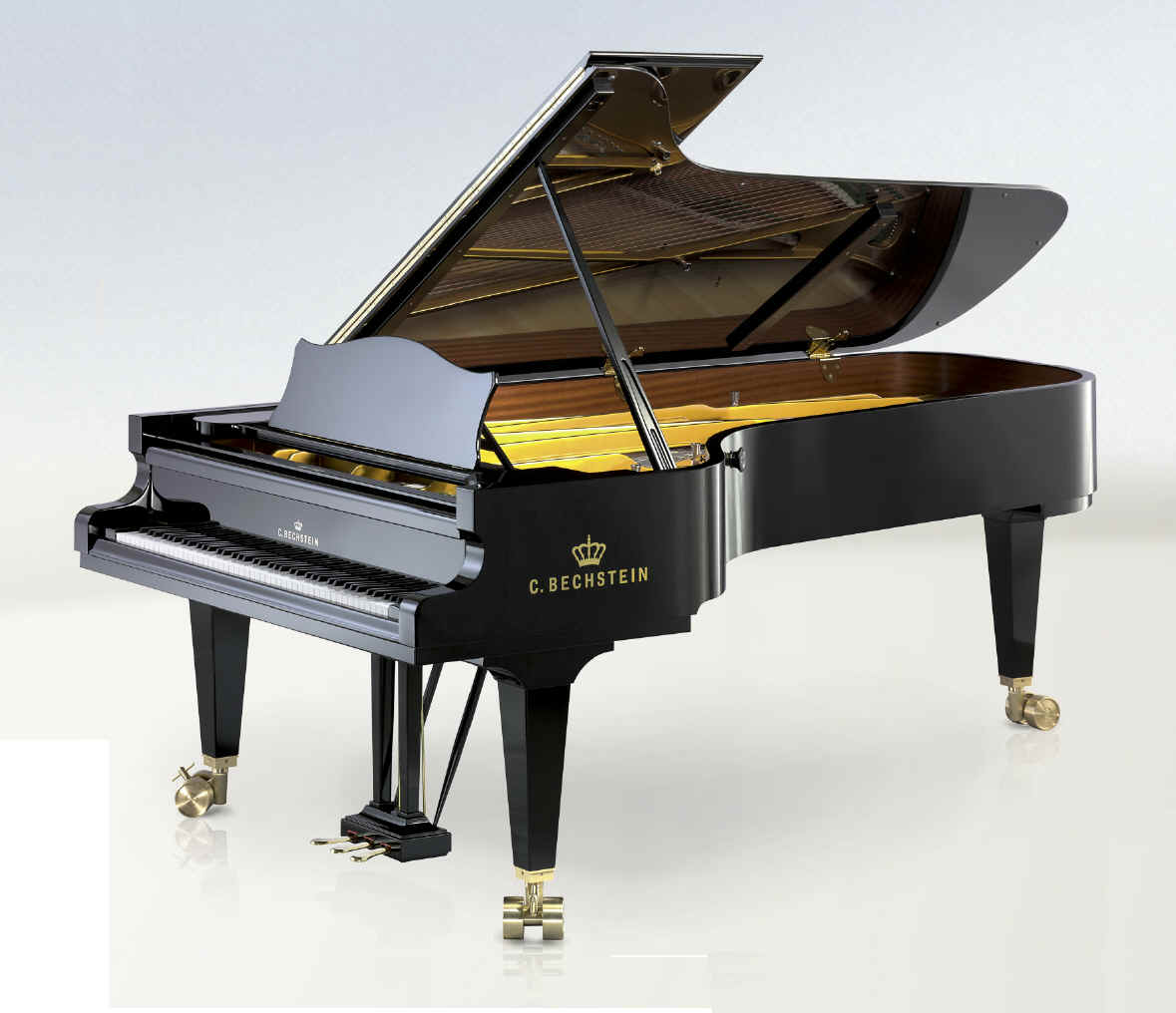 The Bechstein D 282 Concert Grand

Width: 63 inches / 160 cm
Length: 9 feet 3 inches / 282 cm
Weight: 1190 lbs / 540 kg
---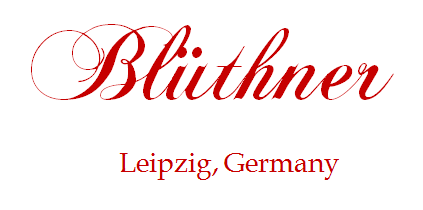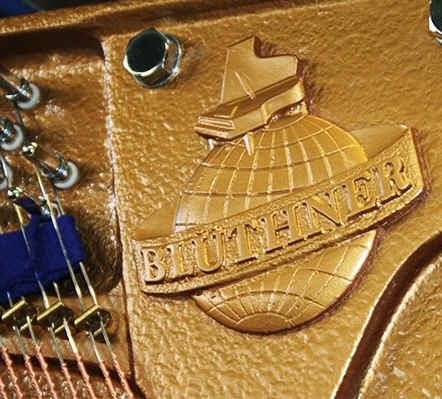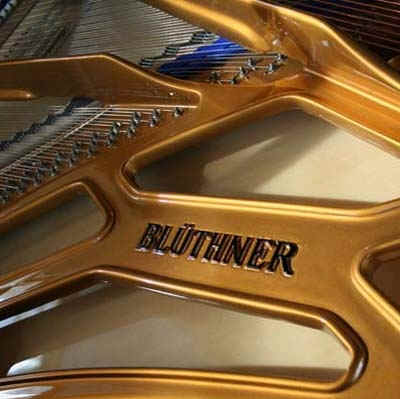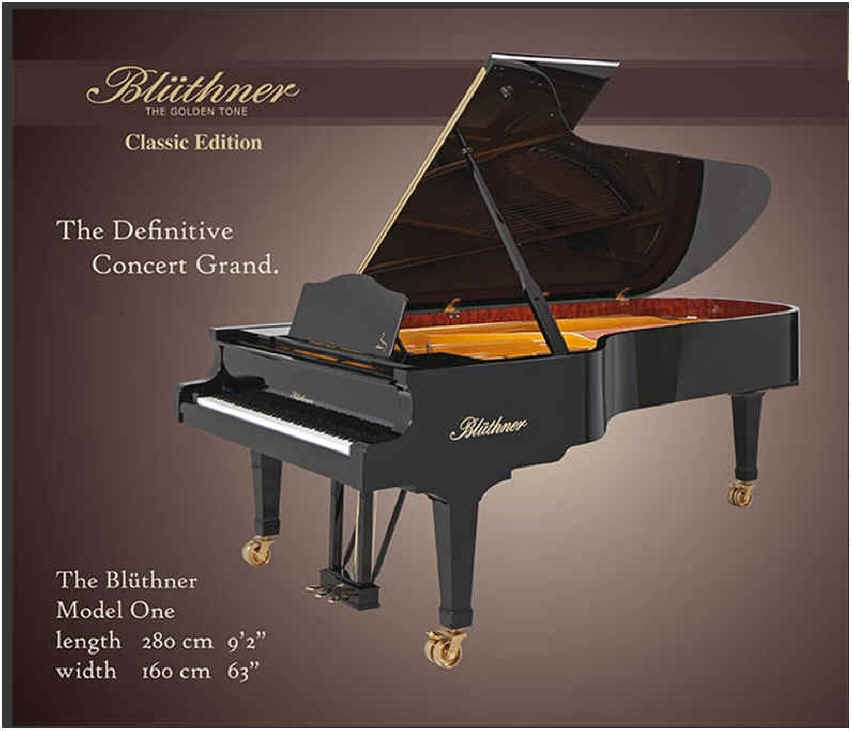 Blüthner is the only manufacturer to use "aliquot strings" -- a fourth string, placed above the normal three strings of the upper keys. This string is not hit by the hammers, but it vibrates in tune with the strings immediately below it, for an added richness of sound.
Many concert grands can be ordered with more ornate woodwork, such as this one, the Julius Blüthner Supreme Edition: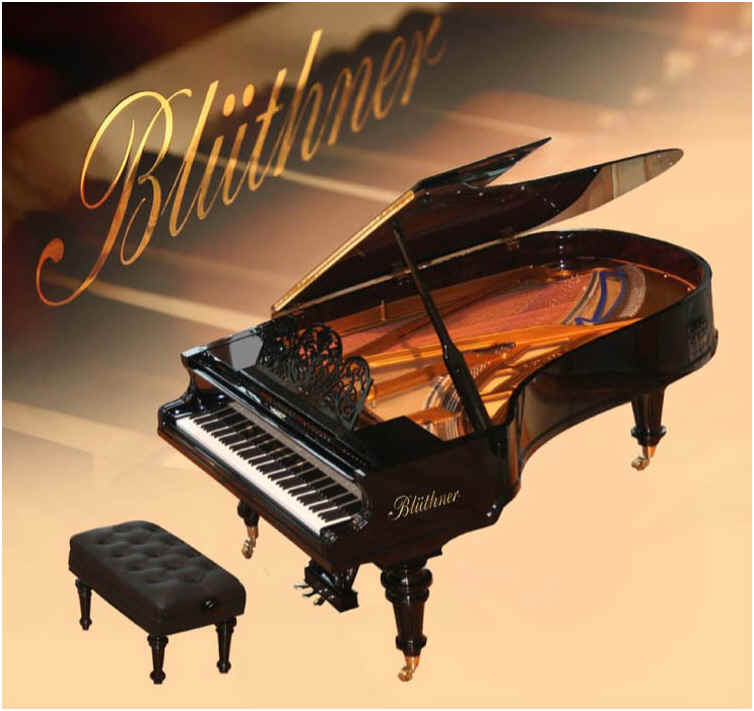 ---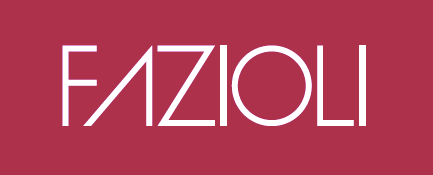 The Fazioli 308 is the crown jewel of the Fazioli series of grand pianos. Made in Sacile, Italy, it is the longest regular production piano in the world.
308 centimeters (10 feet 1 inch) --- 690 kilograms (1545 pounds). Four pedals.
The soundboard is made entirely of red spruce from the Val di Fiemme in the Alps of northeastern Italy -- the same wood that was used by Stradivarius for his legendary violins over 300 years ago.
Fazioli is by far the newest of the great piano companies of Europe, being established in 1981. It very quickly went right to the top in terms of quality, reputation, and price.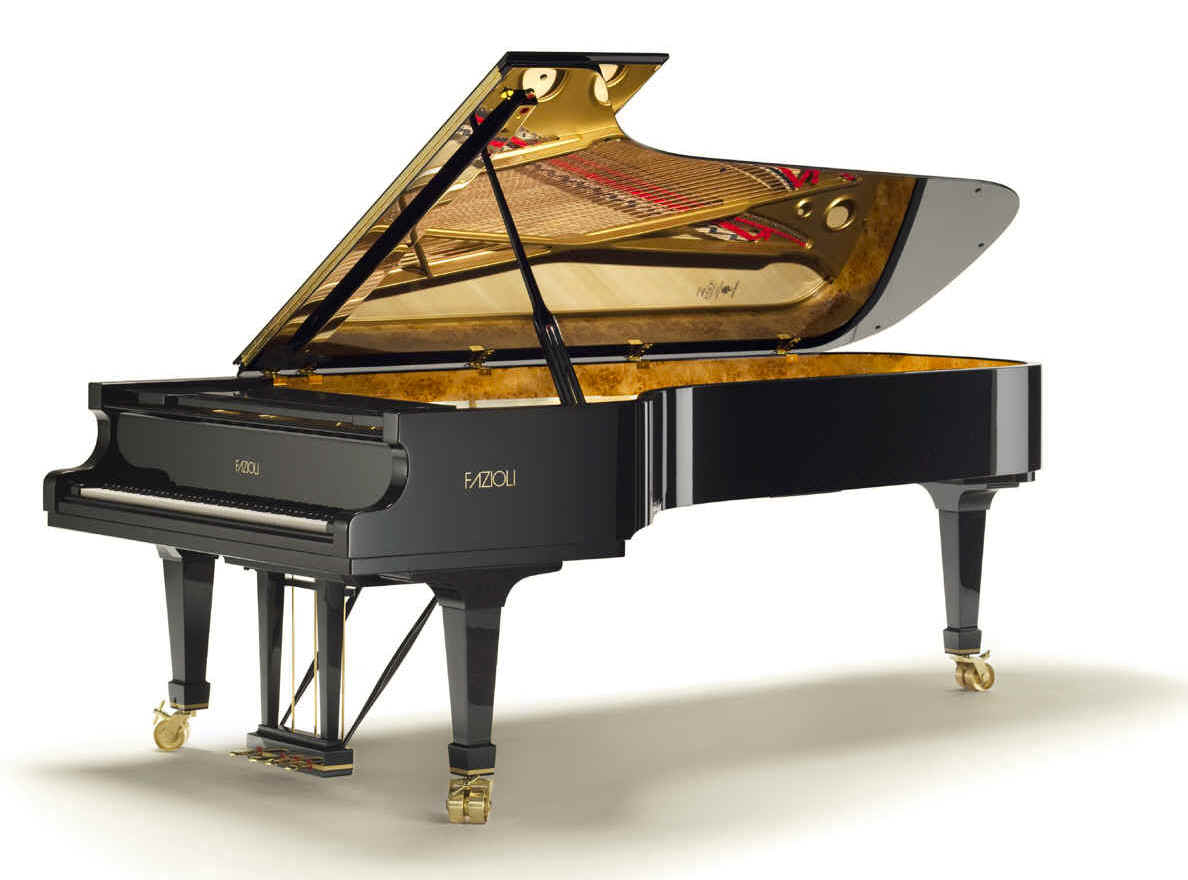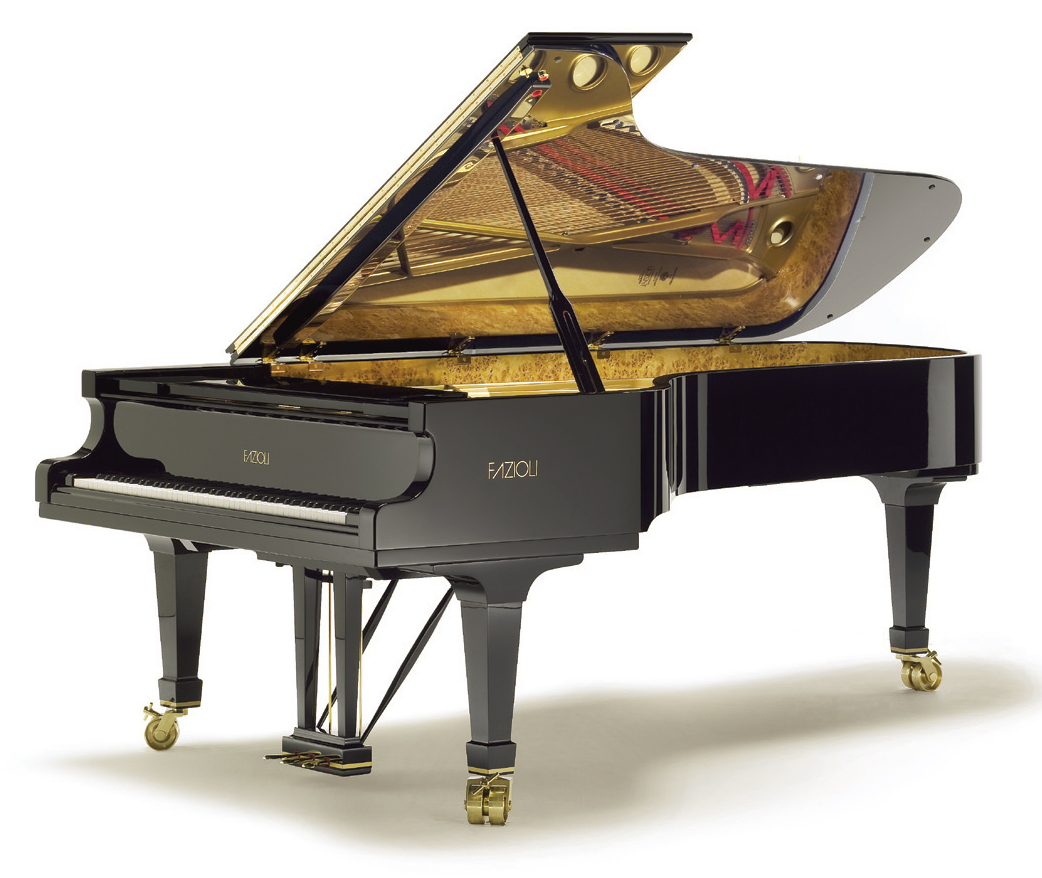 Fazioli also makes the Model 278 Concert Grand.
Even though it is their second-longest model,
it is still longer than the largest concert grands
of many other manufacturers.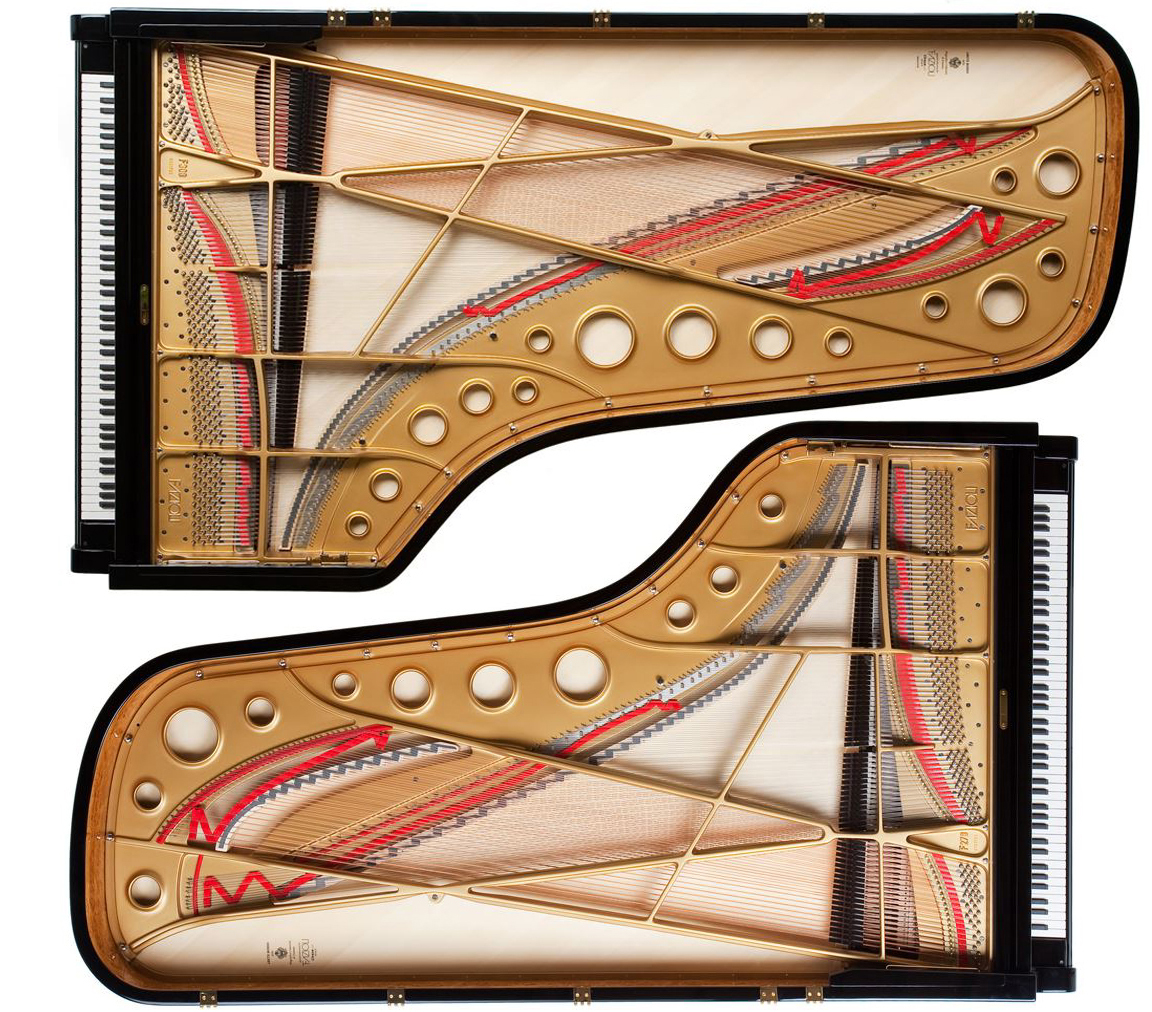 Model 308
10 feet 1 inch

Model 278
9 feet 1 inch
The four pedals of the Fazioli 308:
The one on the left raises all the hammers
closer to the strings, to provide a softer volume
without altering the basic sound of the piano
like the una corda pedal does.
---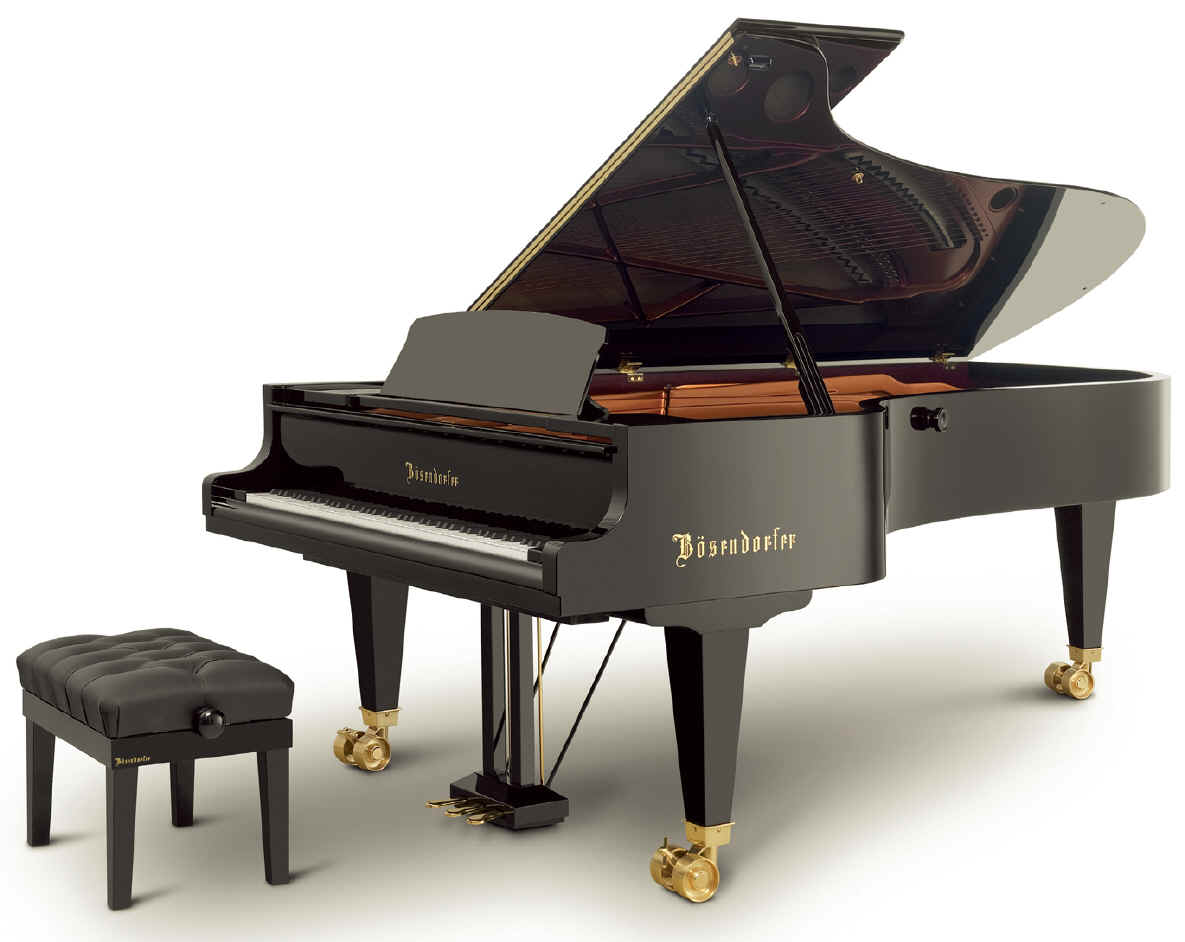 The Imperial Grand has 97 keys -- 8 full octaves.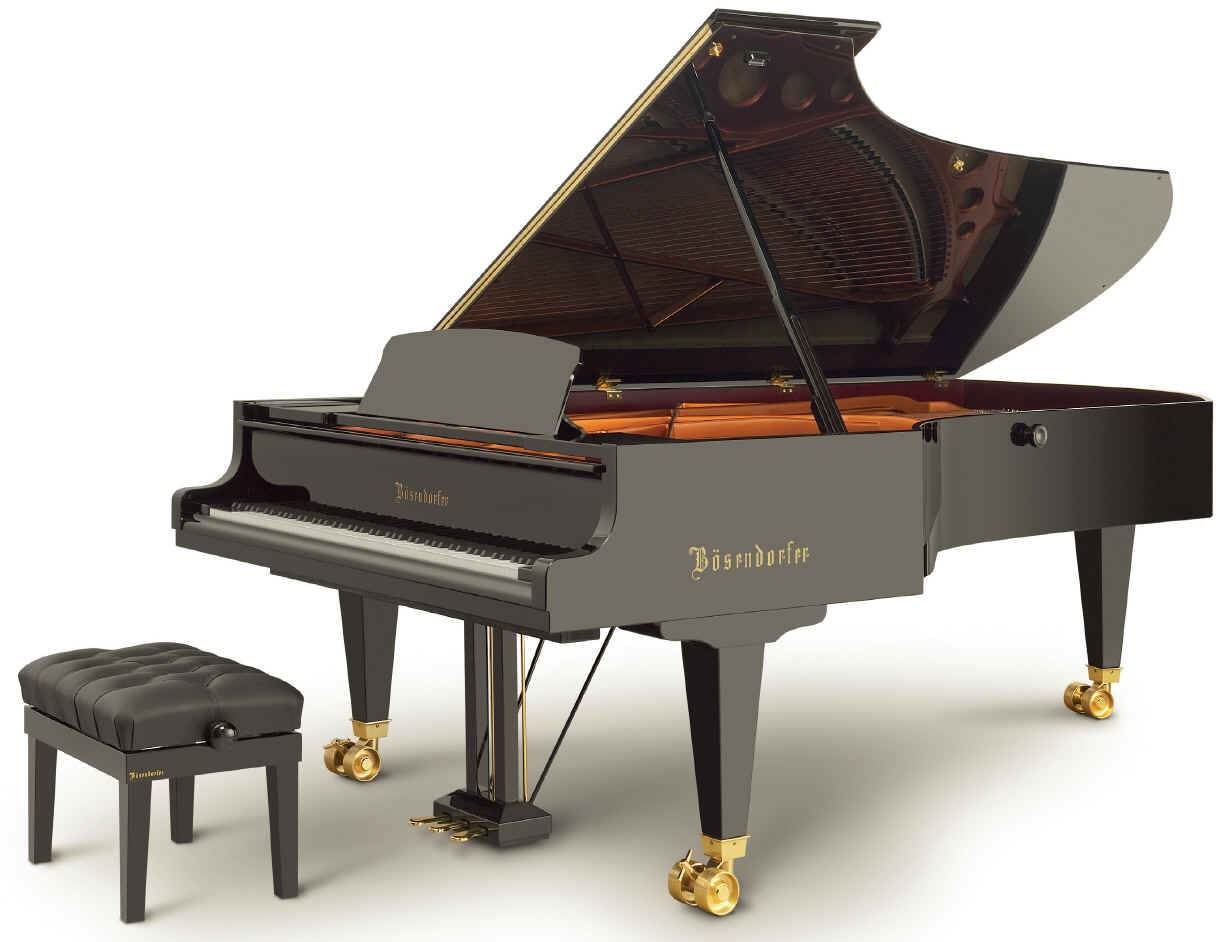 Bösendorfer, perhaps the world's most prestigious brand of all, is the only company to make two concert grands
with two completely different methods of construction.
The Model 280 (at 9' 2" or 280 centimeters) has the usual curved rim, made of many layers of thin veneers
bent around a form and laminated.

But the rim of the Imperial grand (9' 6", or 290 cm) is built quite differently from that of any other piano in the world,
being made in solid sections of wood that are then jointed together, producing angles instead of smooth curves.
It is also made of spruce instead of the usual maple or beech wood. The spruce is from the famous Val di Fiemme in Italy.


The Model 280 has the usual 88 keys, but the Imperial has 97. The nine extra keys are all on the bass end,
colored black so as not to disorient a player more accustomed to 88 keys.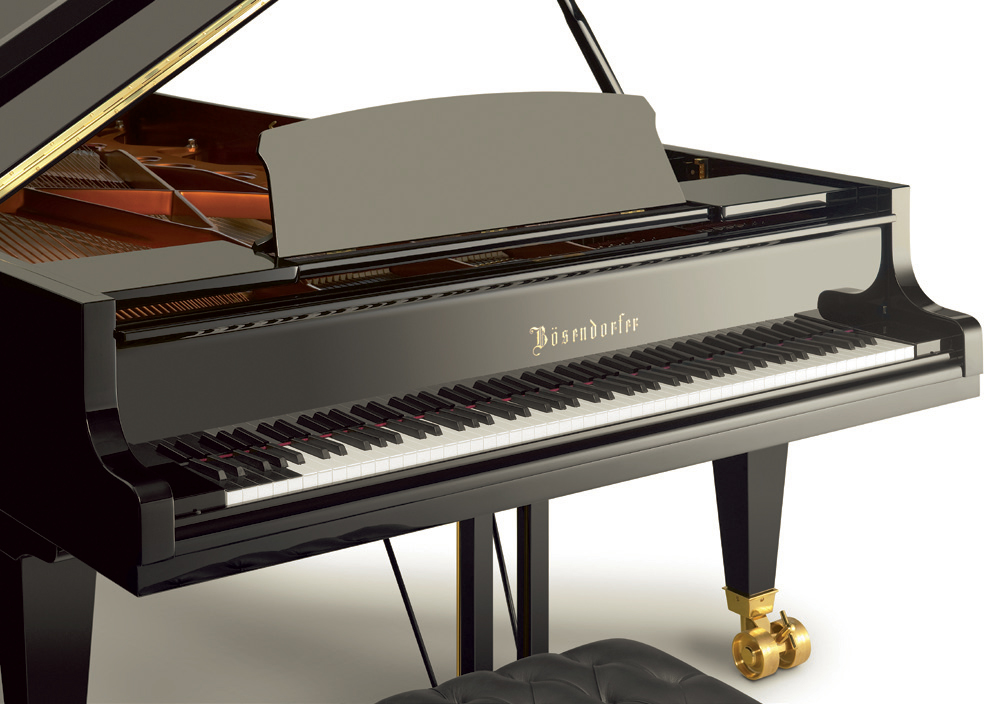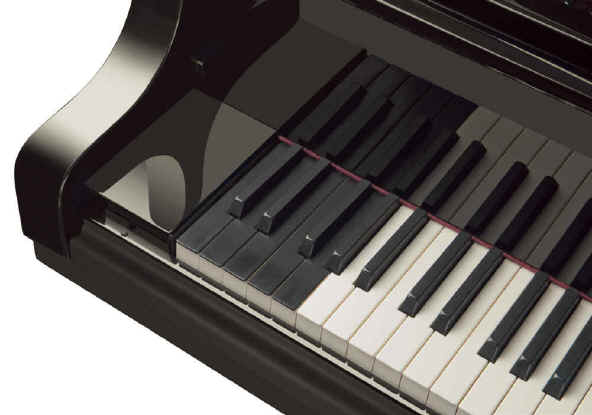 The back of the Model 280,
showing the curved rim of the case.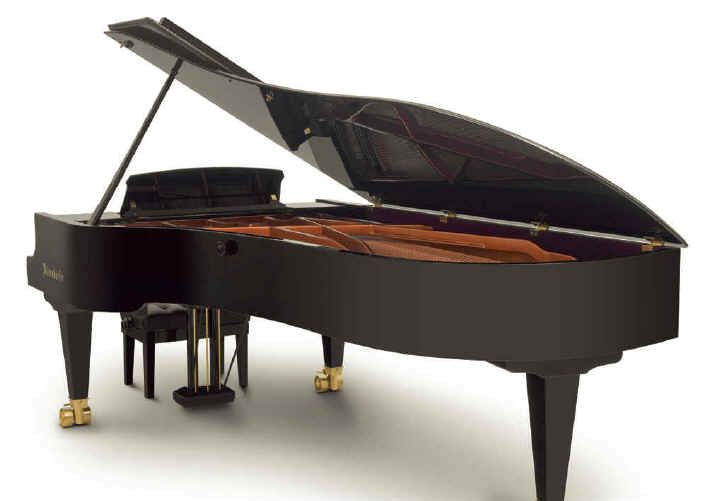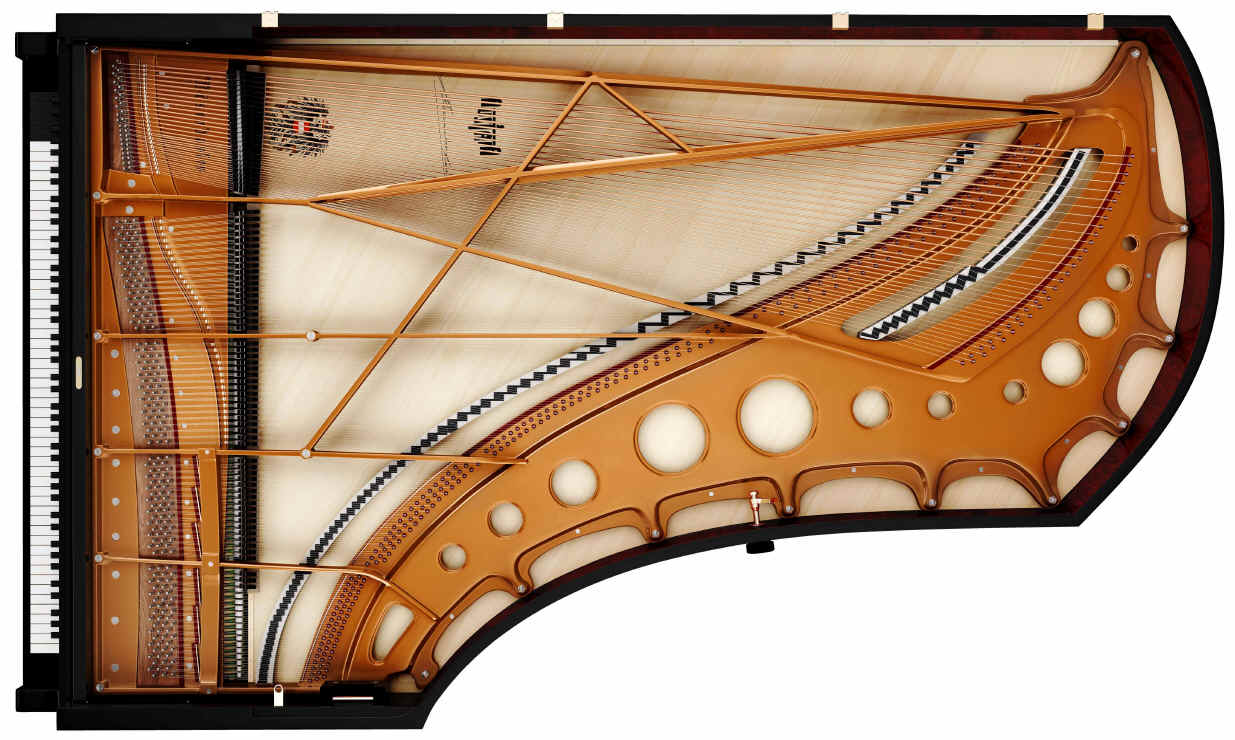 ---

CZECH REPUBLIC
P 284 Mistral grand piano 284 cm / 9 ft 3 in Weight – 560 kg / 1232 lb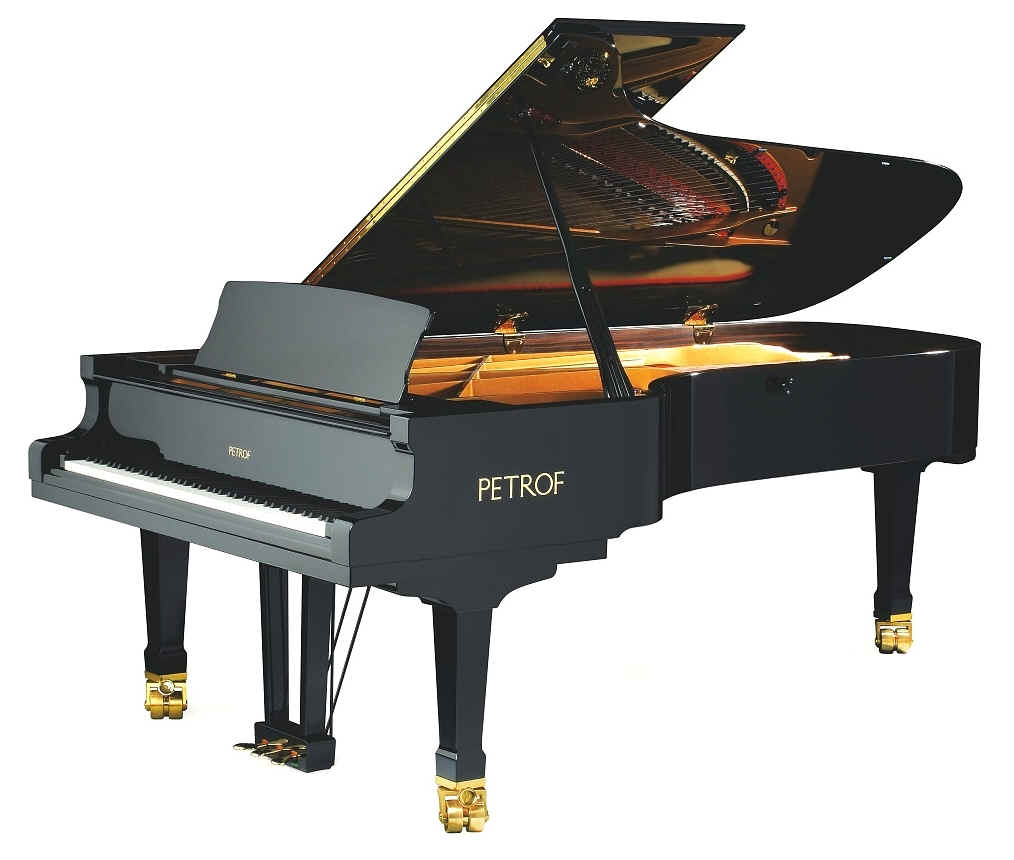 Petrof, of Hradec Králové, Czech Republic, is one of the few piano companies from a former communist country to survive to the present. In fact, it is one of the largest piano companies in Europe, producing around 14,000 pianos a year, of which 1750 are grands of various sizes.
The company was established in 1864 by Antonín Petrof. In 1948, it was confiscated from the Petrof family by the government of Czechoslovakia. In 1991, it was finally returned to them, and now the fifth generation of the Petrof family is in control.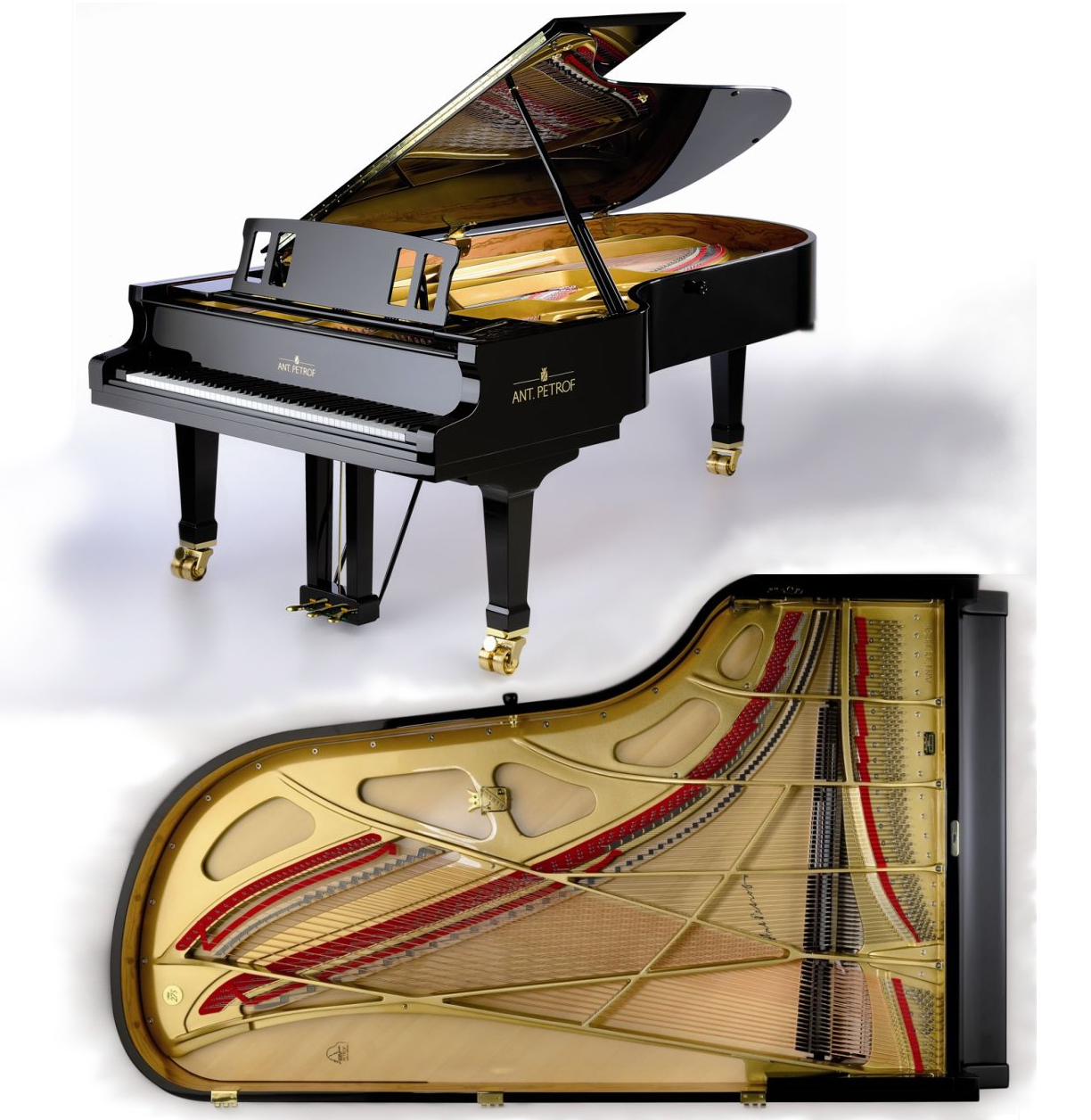 Ant. Petrof 275
Concert Grand piano
275 cm (9' 1") long
One of the world's newest models
of concert grand is the Ant. Petrof.

The founder of the company,
Antonín Petrof, used the same
abbreviation on his very first pianos.
Now, after 150 years,
the original brand has been reborn.
---

BRAUNSCHWEIG, GERMANY
Schimmel is the largest piano manufacturer in Germany.


K280T Concert Grand in Ebony High Gloss





---




Length: 280 cm

Weight: 490 kg

Unfortunately, the famous French piano company Pleyel, in business for over 200 years,
ceased all production in 2013.
Pleyels were the favorite pianos of the greatest of all piano composers, Frédéric Chopin.
---

278 cm /9 feet long --- 504 kg -- 1111 lbs.
The premier piano of Japan.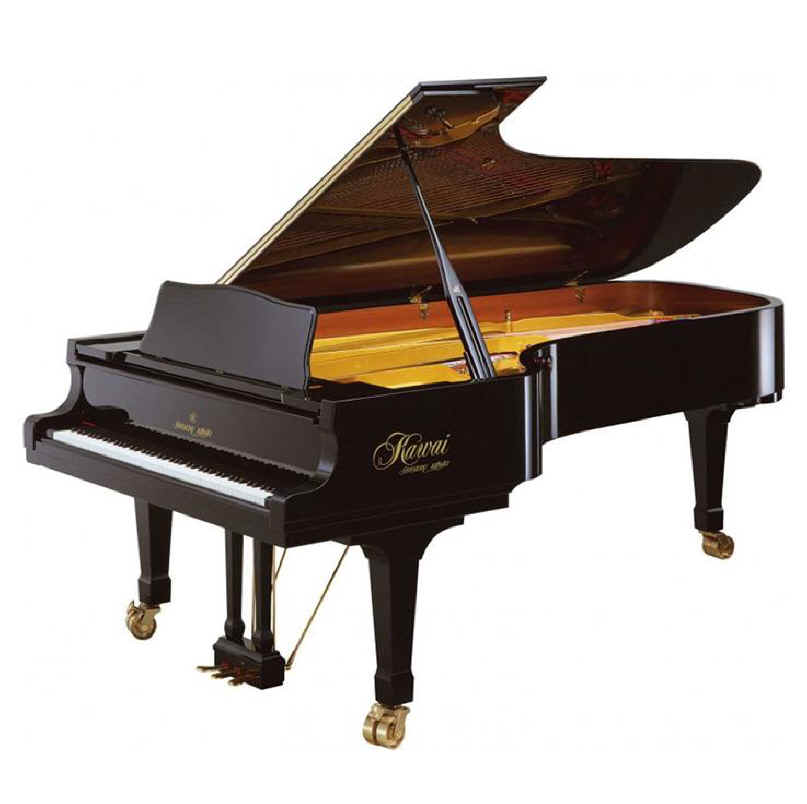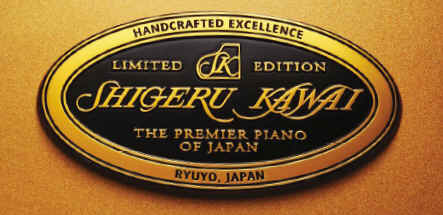 ---


Speichingen, Germany


275 cm -- 560 kg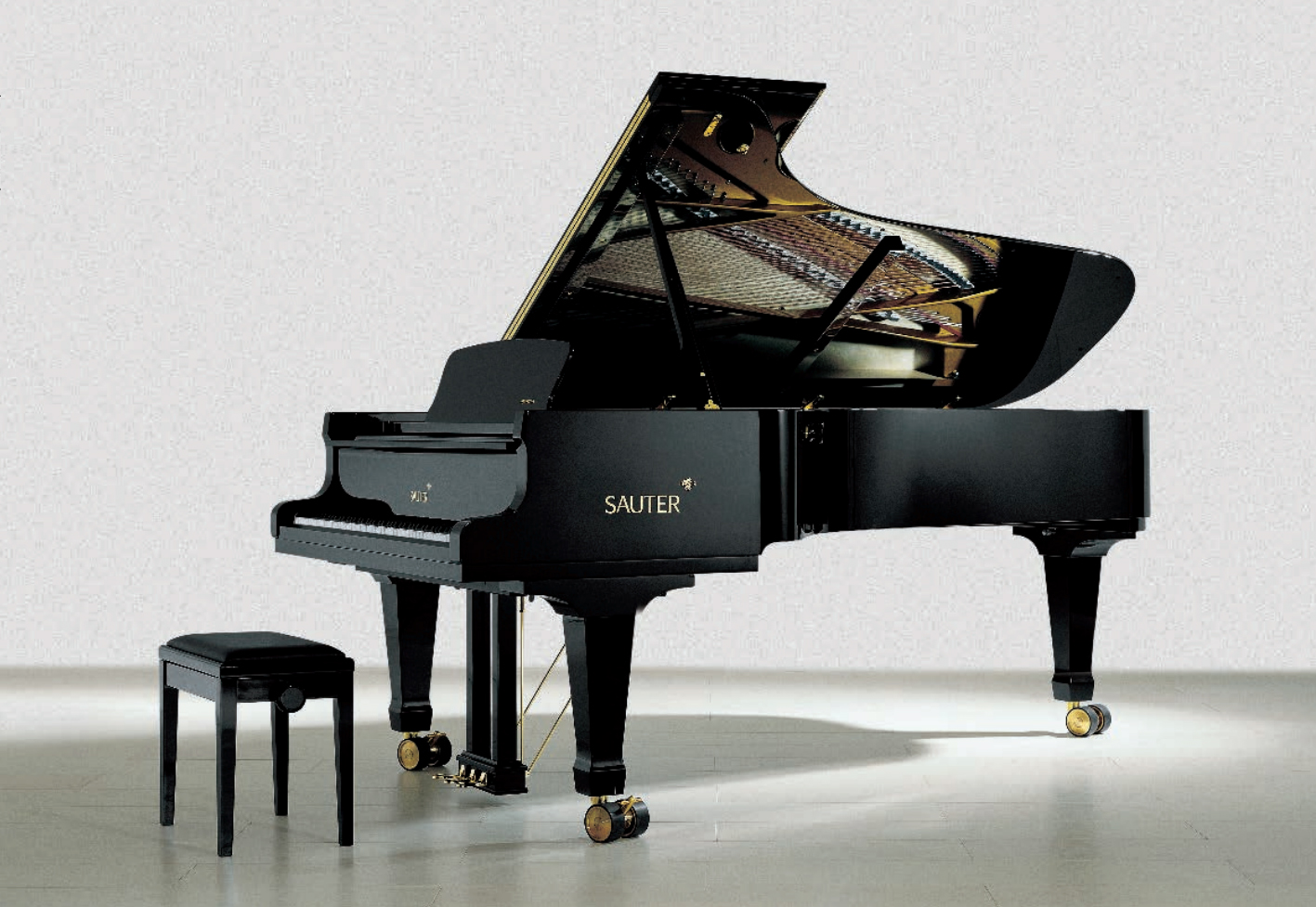 Sauter, established in 1819, has been in continuous production longer than any other piano company in the world.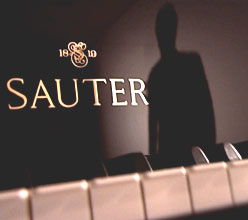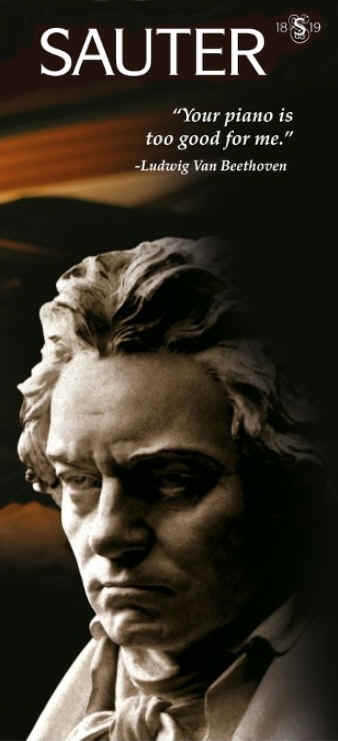 ---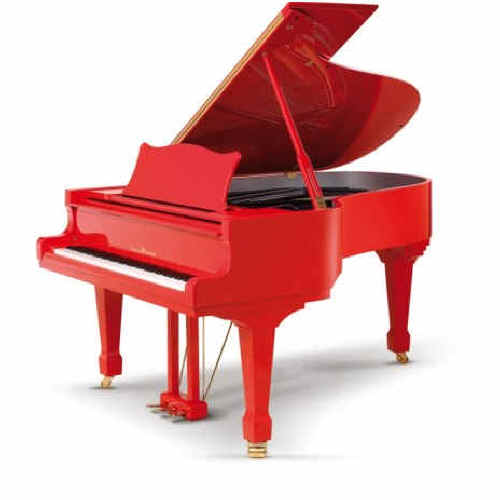 Schulze Pollmann, in spite of the German name, is located in the tiny republic of San Marino, which is surrounded by Italy. They do not make concert grands, but they are famous for their innovative models such as the Ferrari Rosso pianos.
Ferrari contacted Schulze Pollmann to obtain a red piano matching the color of their racing cars; this piano was meant to be used at their most prestigious worldwide dealerships and auto shows.
Schulze Pollmann's technical experts in painting and master carpenters did their utmost to replicate on wooden surfaces the same visual result requested by Ferrari, which, until then, had been obtained only on metal surfaces.
The 197 "Rosso Formula" comes from this experience; it is now produced upon request, in limited quantities. In addition to the exclusive red color, which is warm and shining, this piano offers other unique features: a matching bench with velvety-leather red top, an iron frame cast in carbon-grey color (like the racing cars' engines), and the inner side of the rim in the same metallic grey.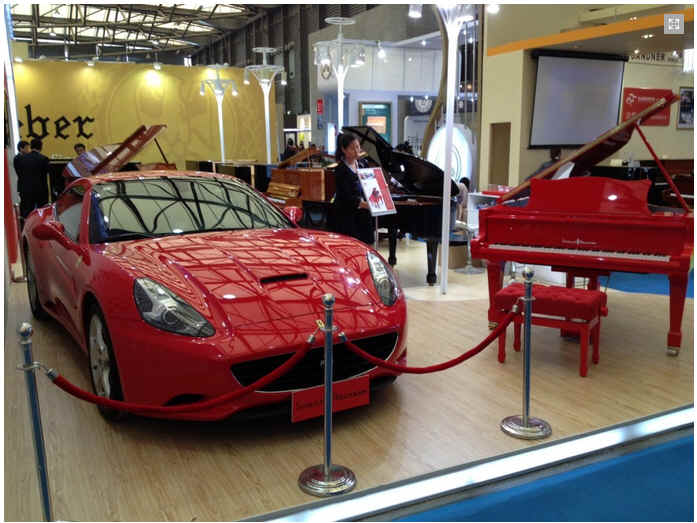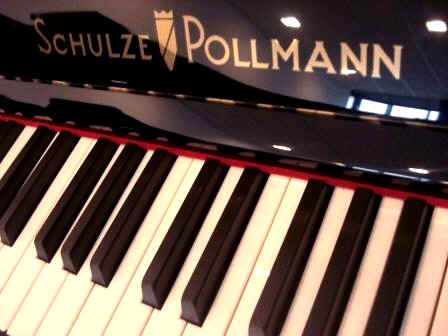 ---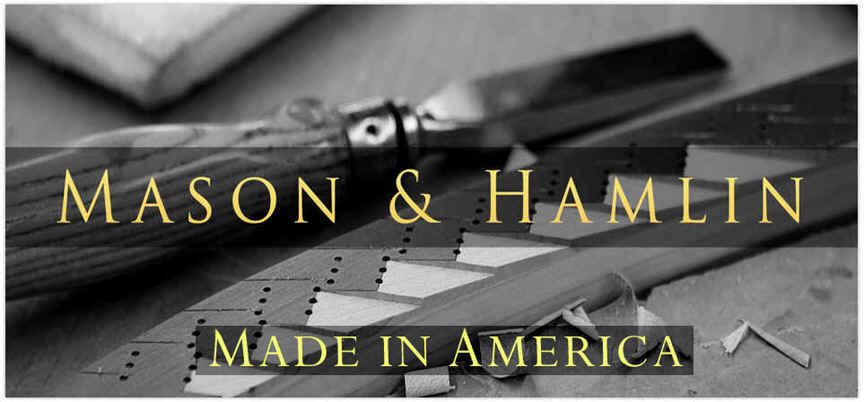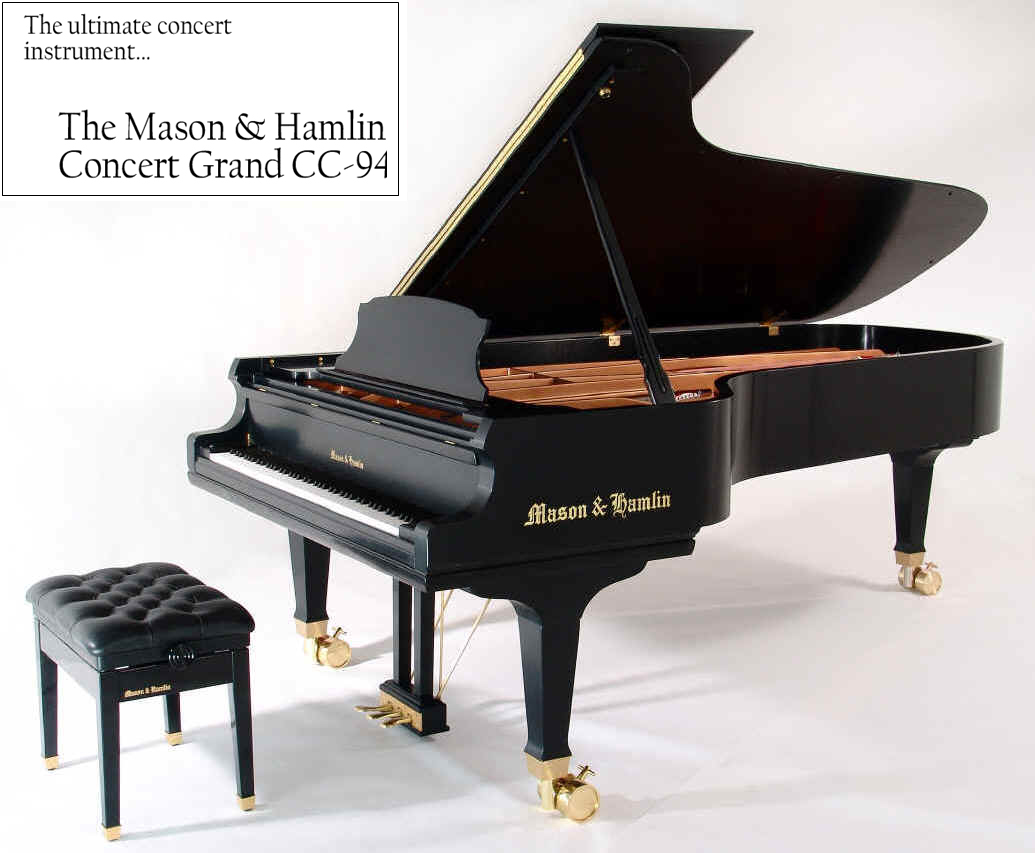 The concert stage has a formidable new star in the CC-94, the first concert grand designed, built and introduced by an American piano manufacturer in half a century.
Handcrafted in limited numbers using only the world's finest materials, the CC-94 epitomizes the piano maker's art. It is distinguished by a massive rim, wide body, and oversized soundboard, guaranteeing that the CC-94 will retain all of its brilliant tonal characteristics throughout the life of the instrument. The CC-94 is available in classic ebony satin, polished ebony, and rosewood.
As always, Mason & Hamlin pianos are Made in America.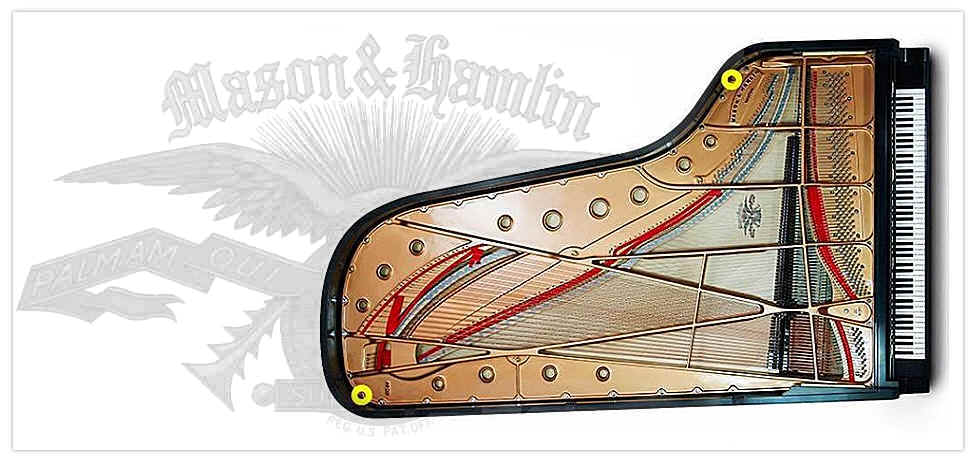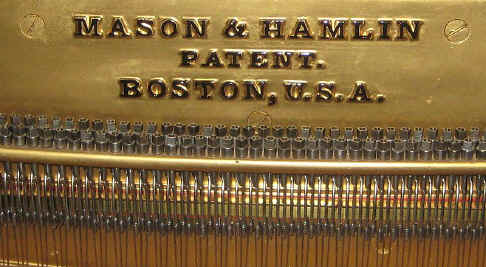 ---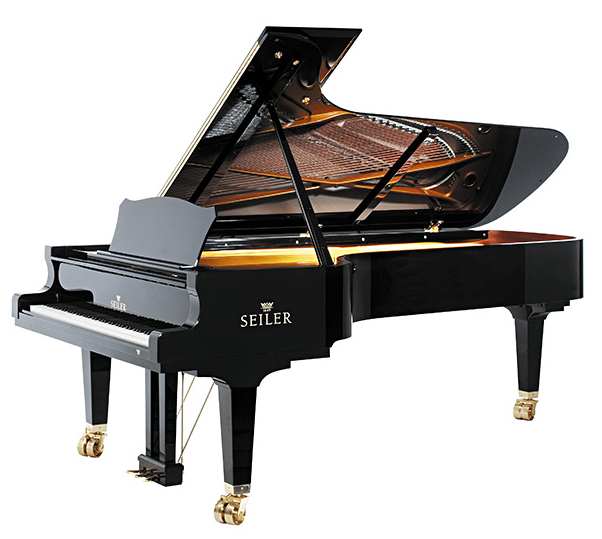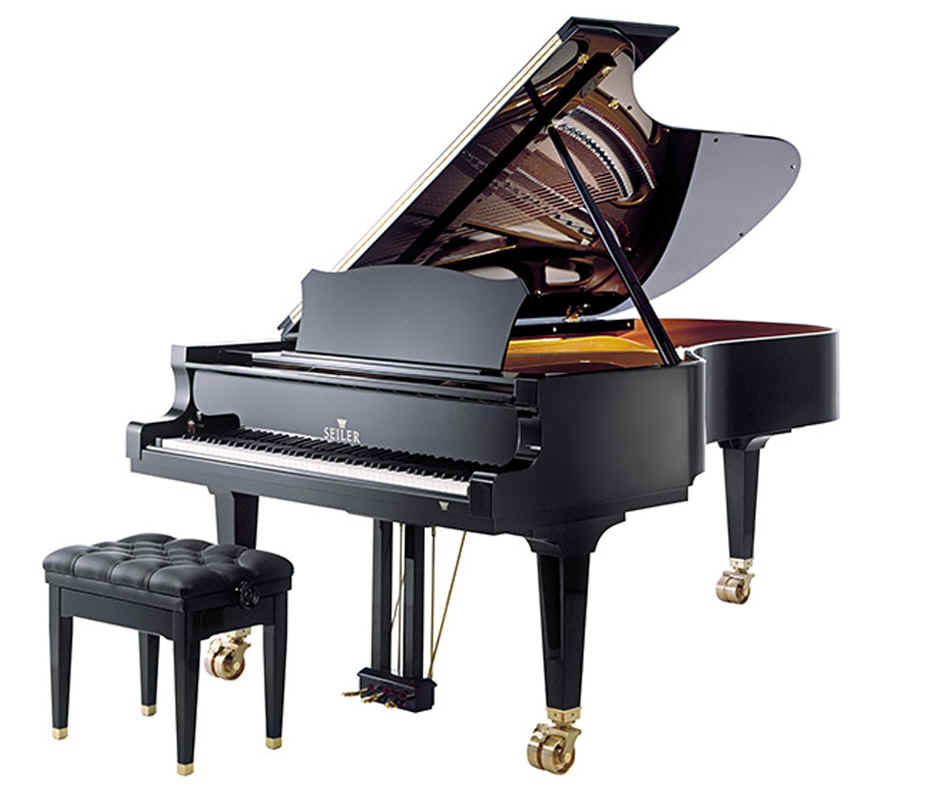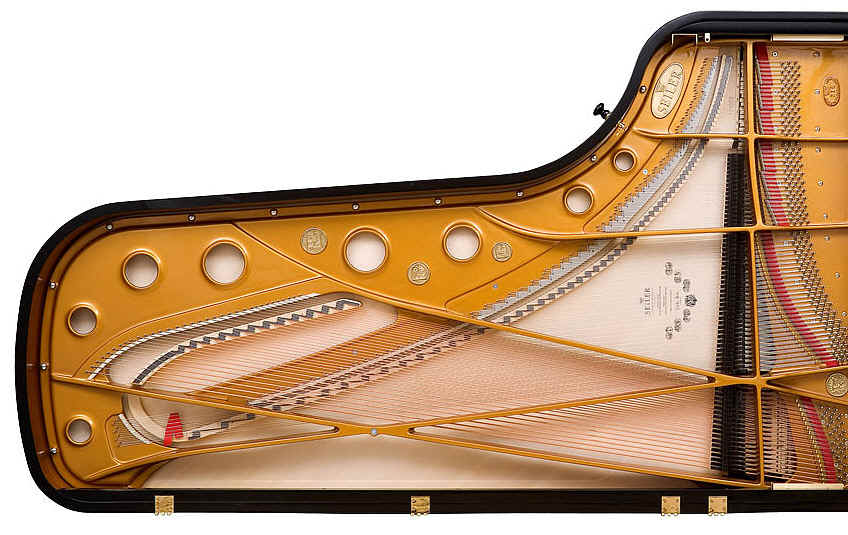 SEILER -- Kitzingen, Germany
---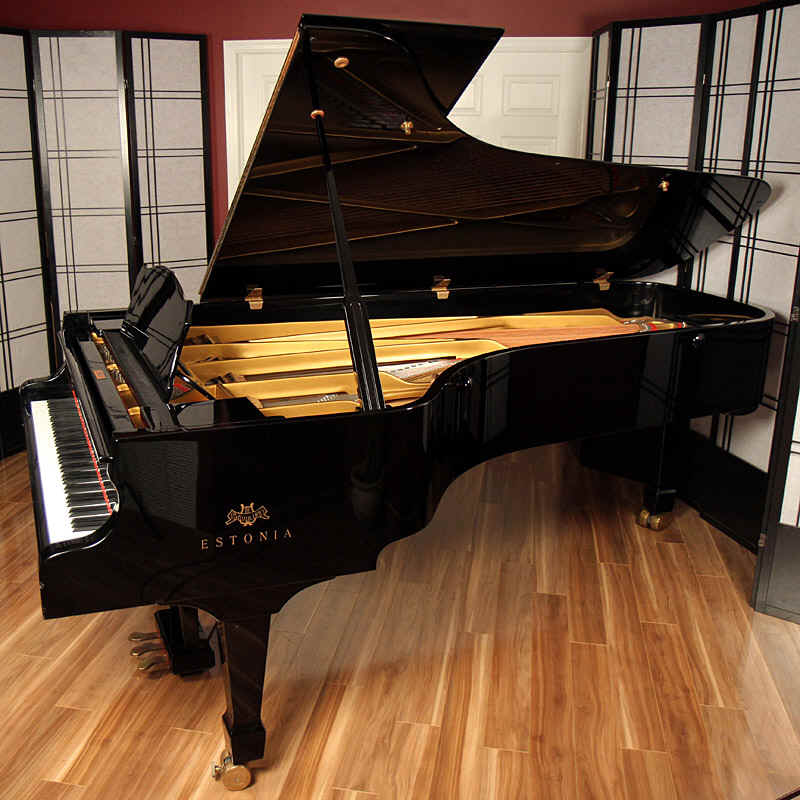 E S T O N I A P I A N O S
Tallinn, Estonia
Ebony Polish Estonia Concert Grand Model 274.
Length 9' 0"
Width 5' 2"
Weight 1213 lbs.

Over 7500 Concert Grand pianos have been made in Estonia, which is
probably the largest number of concert grands made by any piano factory.
Estonia Pianos is the only manufacturer from the former Soviet Union
that has survived, and now has a reputation of excellent quality at a lower
price than other European pianos.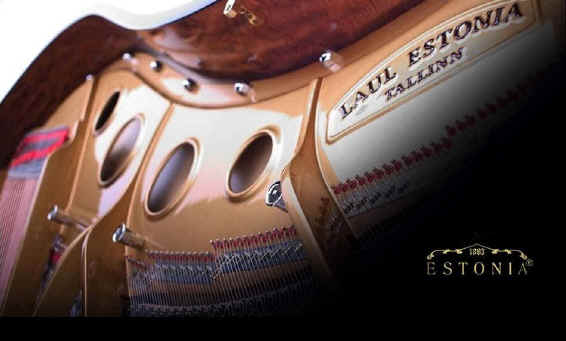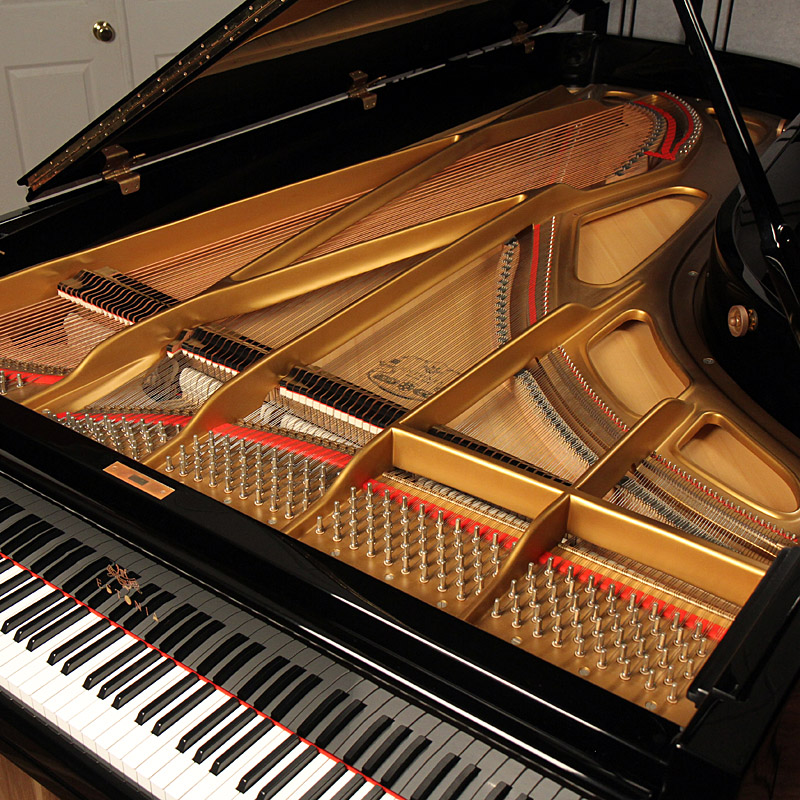 ---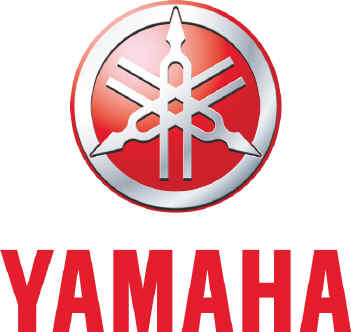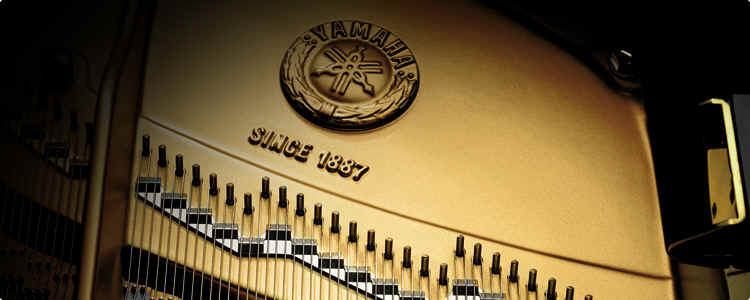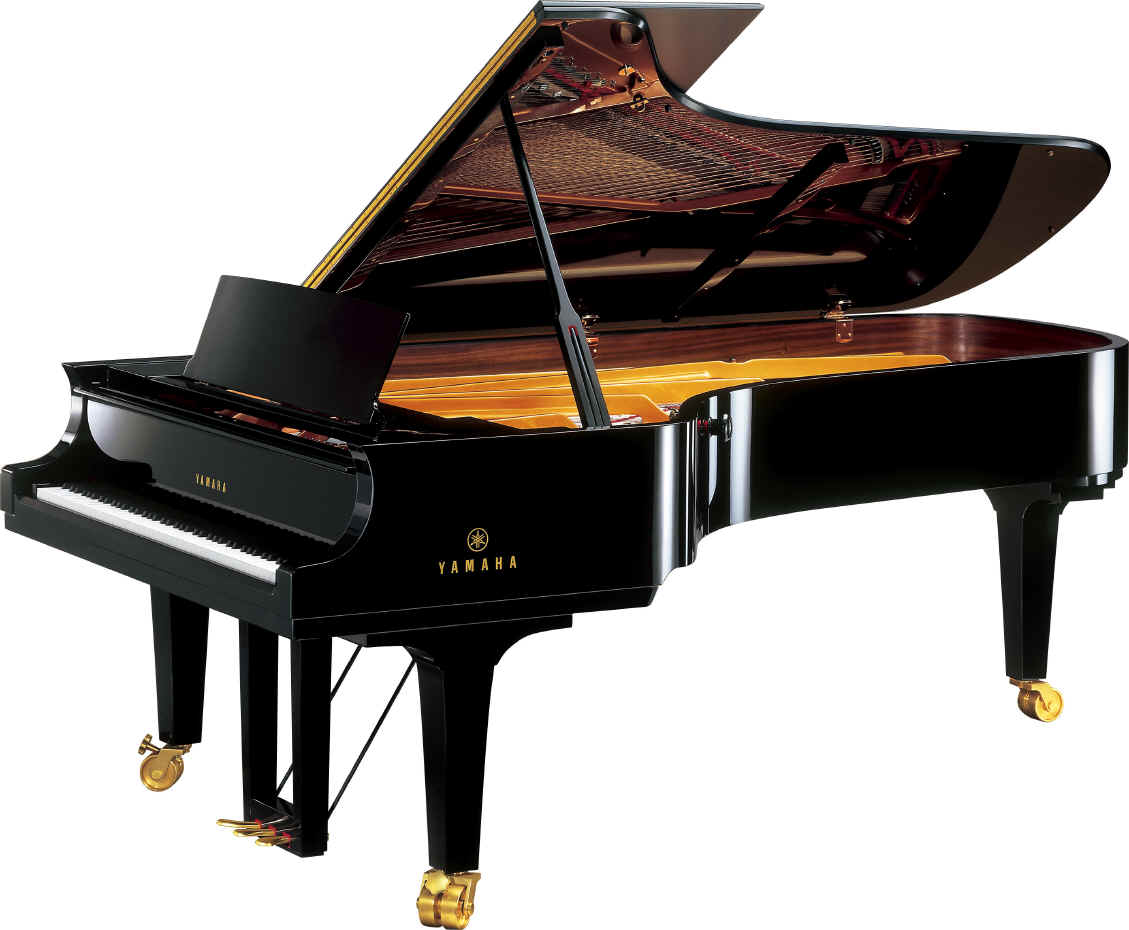 The Flagship of the CF series, the CFX full concert grand piano represents the pinnacle of Yamaha's tradition of piano crafting.
Beautifully made and with an exquisite tone across the entire dynamic range, the CFX has the power to project its sound to the furthest reaches of any concert hall.
---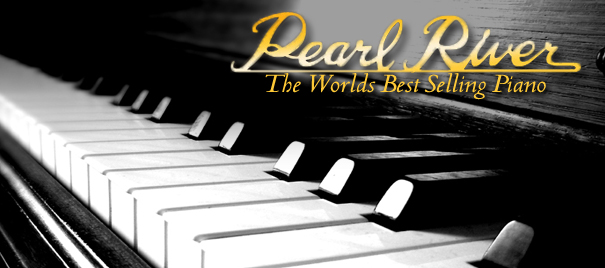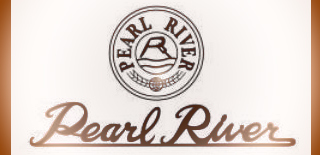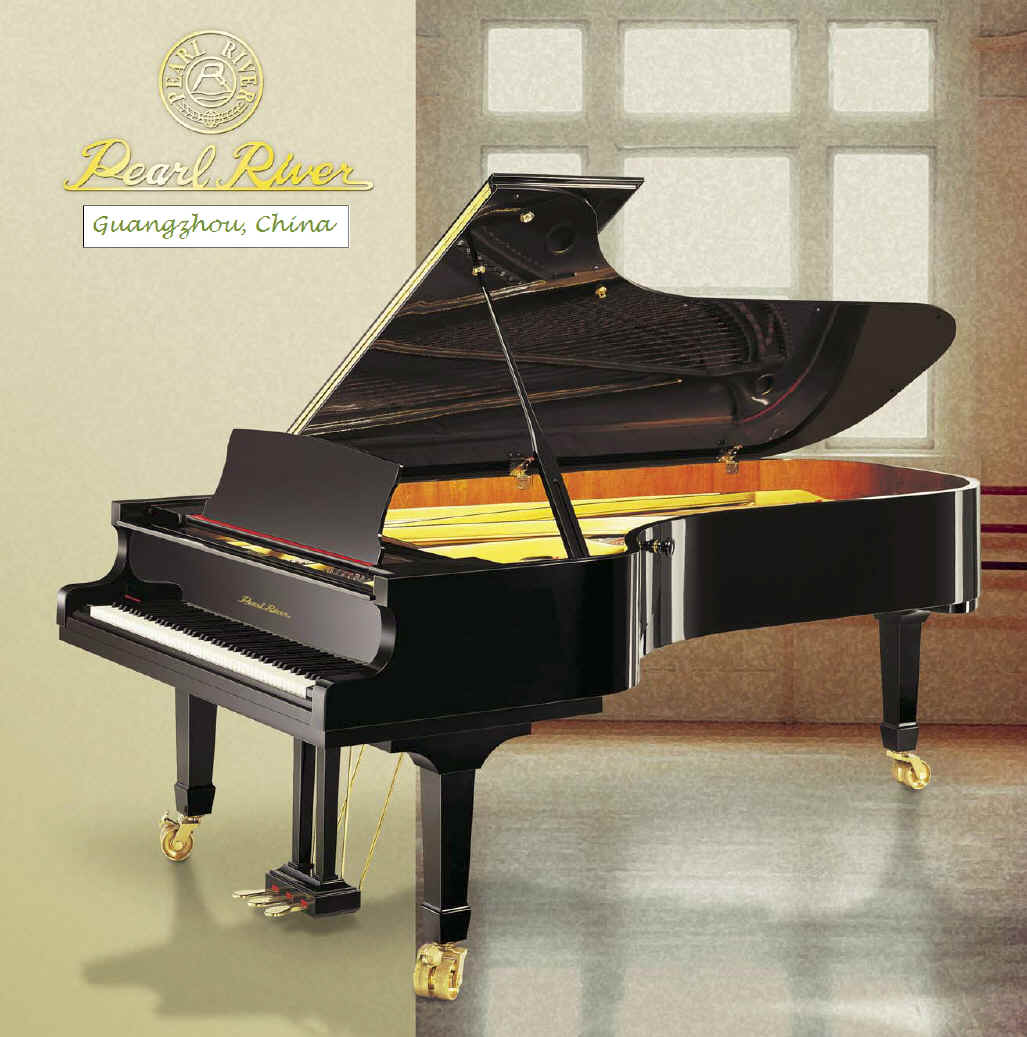 9 feet 1150 lbs
Pearl River of China is probably the only budget brand that makes a concert grand.
They are the largest piano manufacturer in the world, and sell most of their concert grands within China.
The Pearl River concert grand is also sold with the Ritmüller name: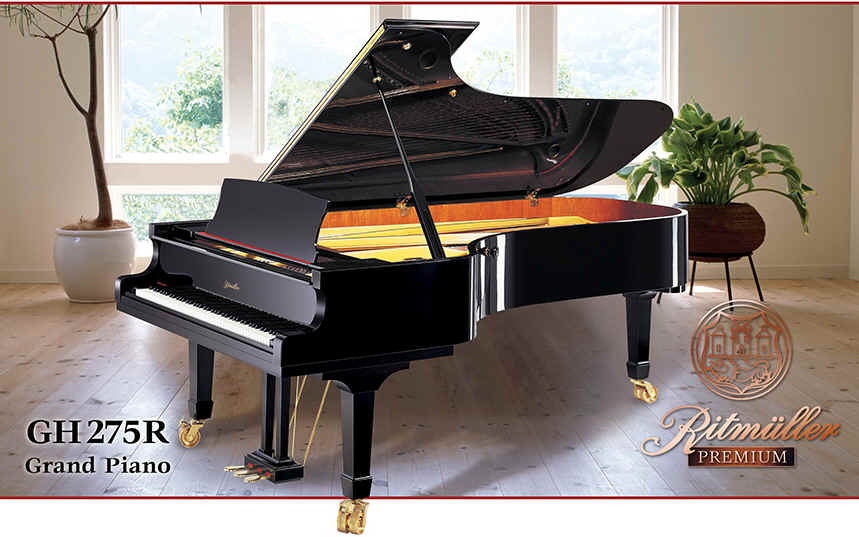 ---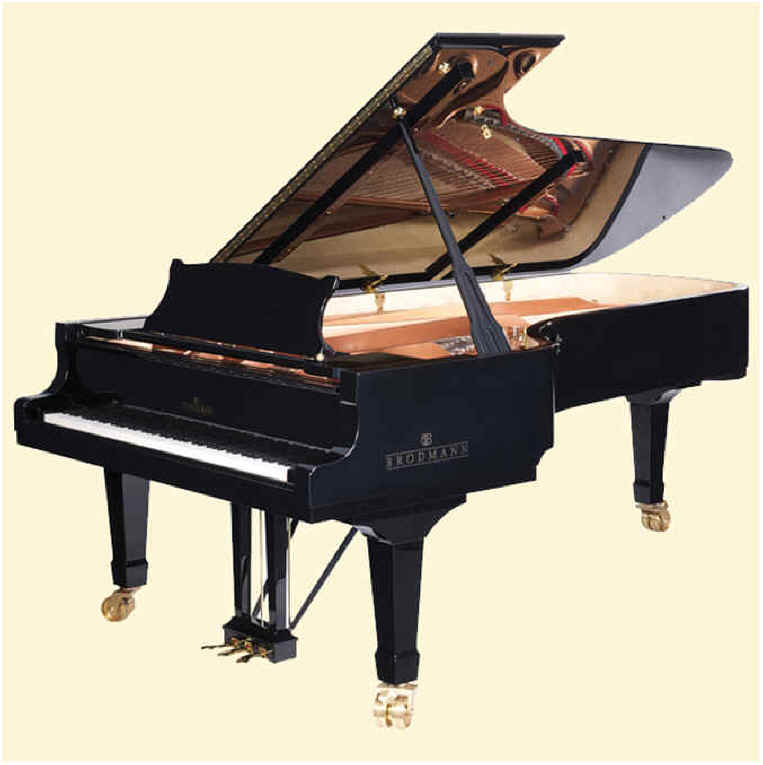 The Brodmann 275, introduced in 2011,
is partially made in China and then shipped to Austria,
where the strings and action are installed
and all tuning, voicing, and regulation work is performed.
---

Phoenix, Arizona USA
Weight 560 kg (1,234.6 lbs)
Length 275 cm (9')
Height 104 cm (3' 5")
Width 159 cm (5' 3")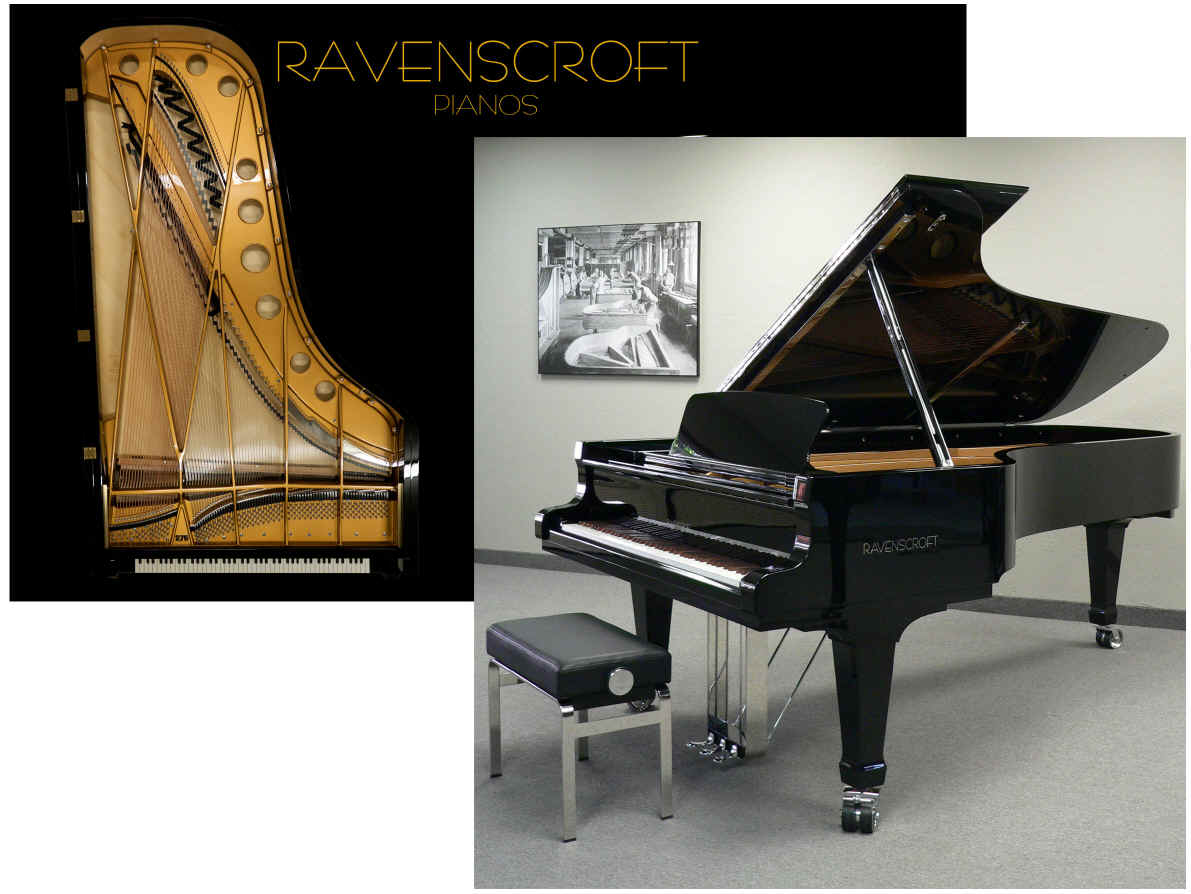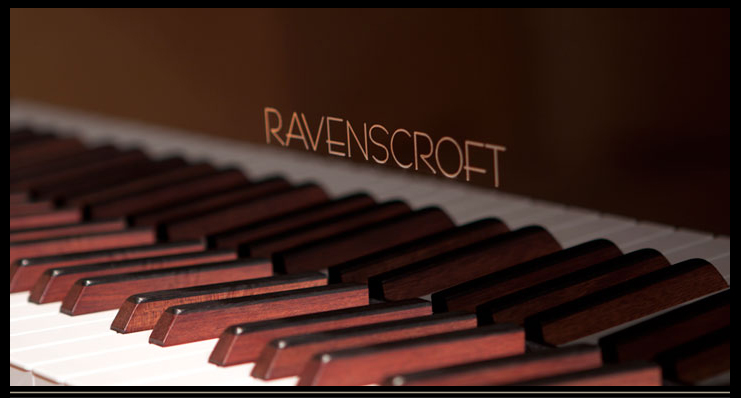 The frames for Ravenscroft pianos are made in Germany by Sauter, the oldest piano company in the world,
which are then shipped to Arizona where the piano is assembled.
Over 1000 hours of work is put into each piano, which is two or three times as much as most other companies.
These are the most expensive pianos made in America.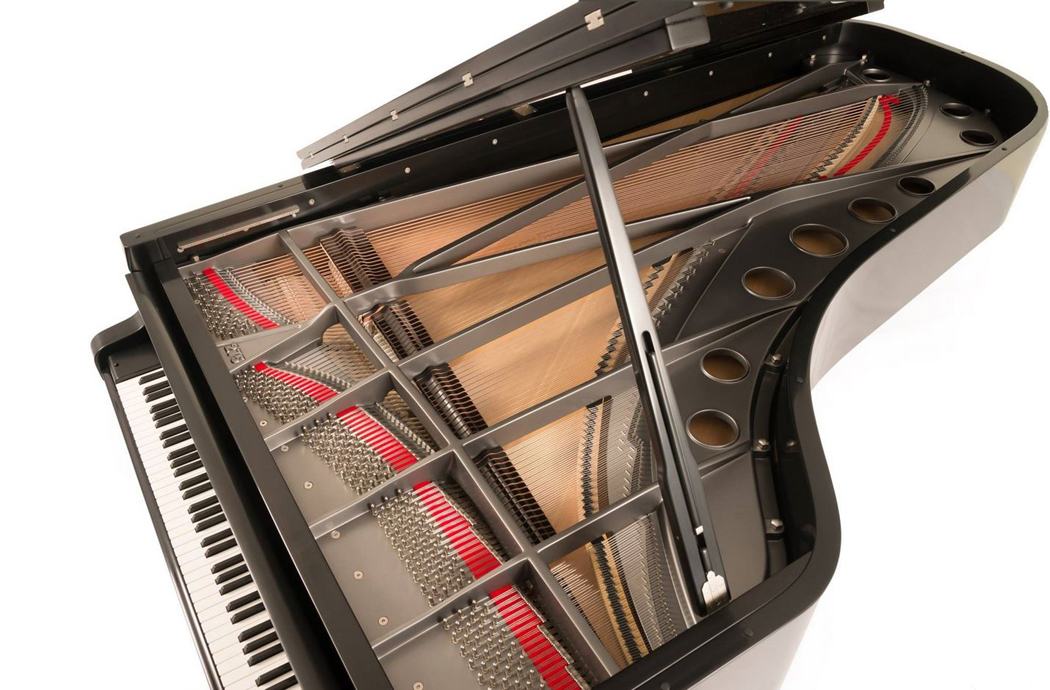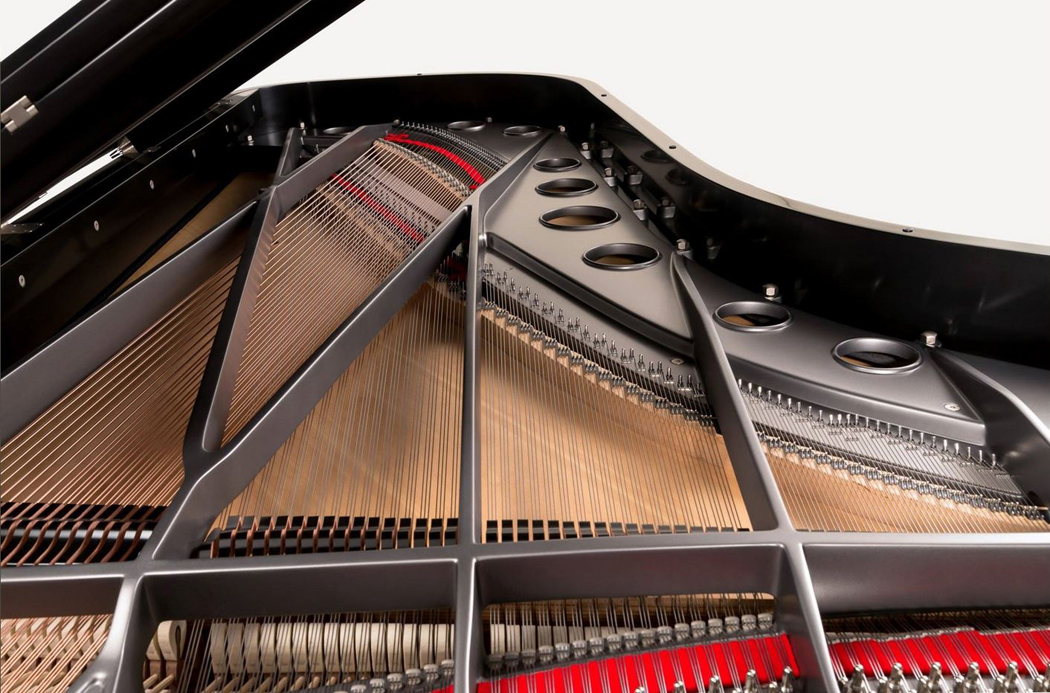 ---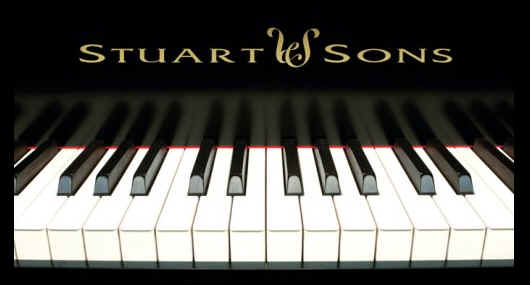 Newcastle, New South Wales, AUSTRALIA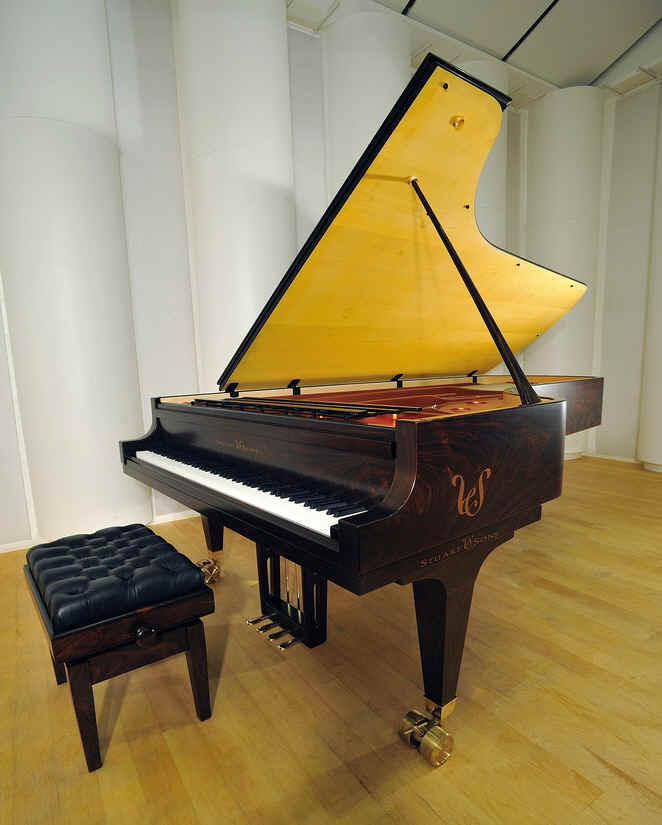 Stuart & Sons Concert Grand -- 9 feet 6 inches long.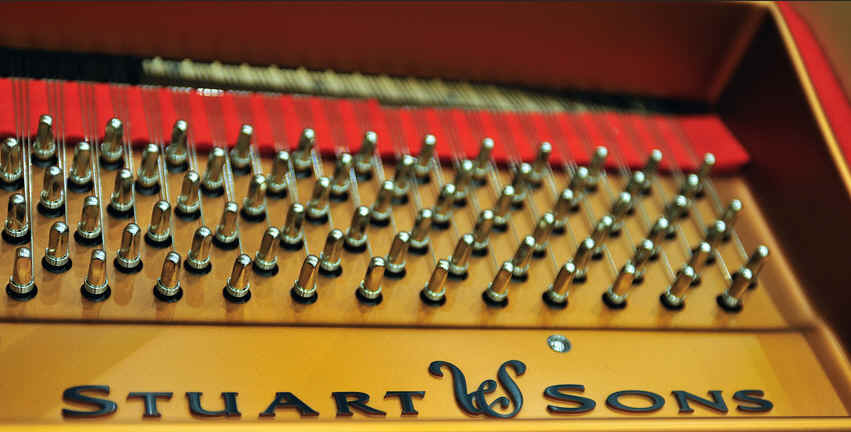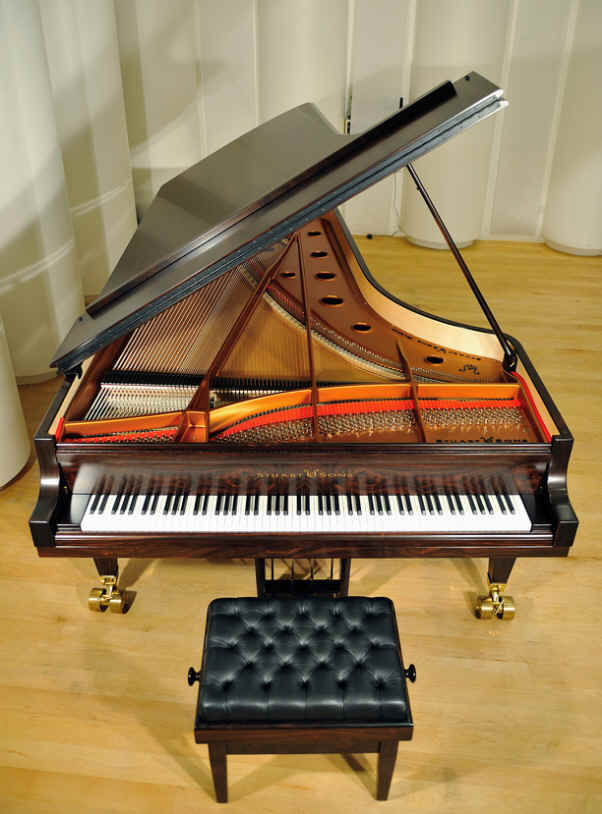 Stuart & Sons of Australia is the only company
in the world to make a piano with 102 keys --
an extra 9 in the bass, plus another 5 on the treble end.
These cannot be considered as normal production pianos;
only one or two are made a year, as special orders.
They are often made with exotic Australian woods such as
sassafras, sycamore or Tasmanian Huon pine.
Each piano takes over a year to manufacture.
---
So what kind of piano do I have?

(
)
(
)
(
)
(
)
(
)
(
)
(
)
(
)
(
)
(
)
(
)
(
)
Here it is:
(
)
(
)
(
)
(
)
(
)
(
)
(
)
(
)
(
)
(
)
(
)
(
)
|
\/

At the factory in Austria --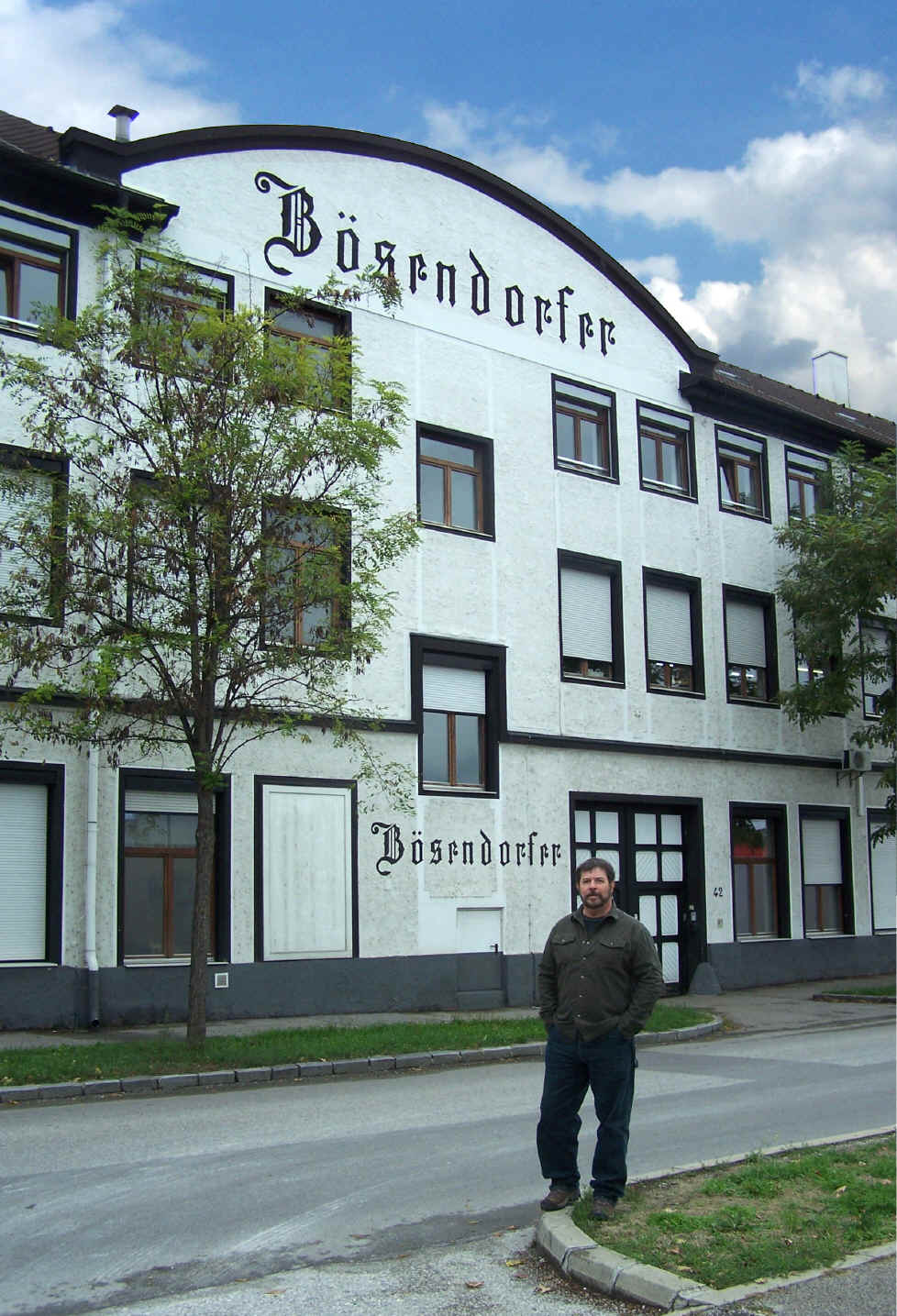 -- in September 2013.
At my house: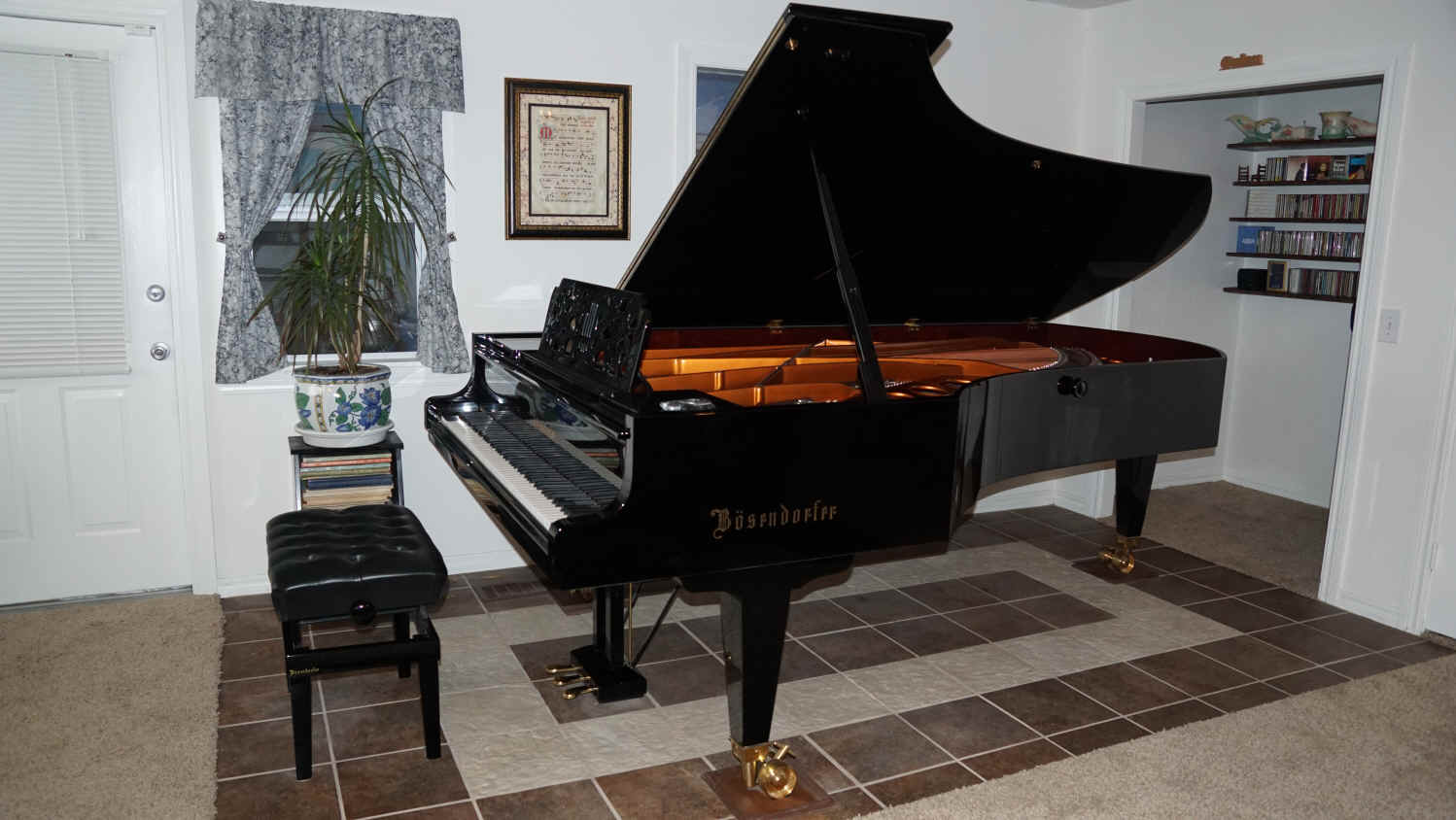 Since the piano weighs 1250 lbs, I had to crawl on my stomach under the house and install a few large wooden supports under the floor. I wanted tile under the piano to reflect the sound, but I didn't dare lay the tile and then roll those brass wheels across it, the tile would have shattered instantly. So I put the piano in place, jacked up one leg with a jack from my pickup truck, laid some tile under it, and let it stand there with the leg in the air for a week till the glue dried, while laying some other tiles around it. Then I had to put in the grout, and let that sit for a week to dry too. I made the wooden wheel plates with a soft felt underside, and then finally let the wheel down on one of them. No cracks! So then I had to do the same thing with the other two legs. It took over two months to get all the tile laid under the piano, which was kind of hard on the head, too.
Yes, it may be too much piano for the room it's in, but isn't it better for it to be cared for, loved, and played daily in a small house,
than stuck forever on some cold concert stage, shoved around, and loved by nobody?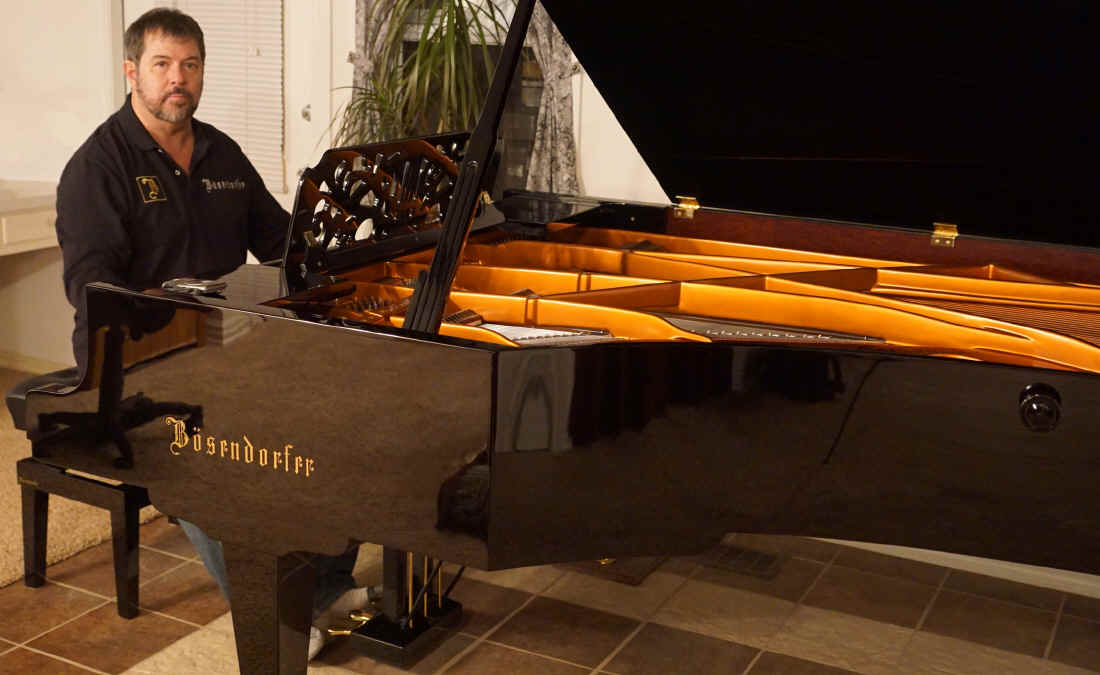 The special music stand is the "Johann Strauss" model. Notice the nine extra notes at the end.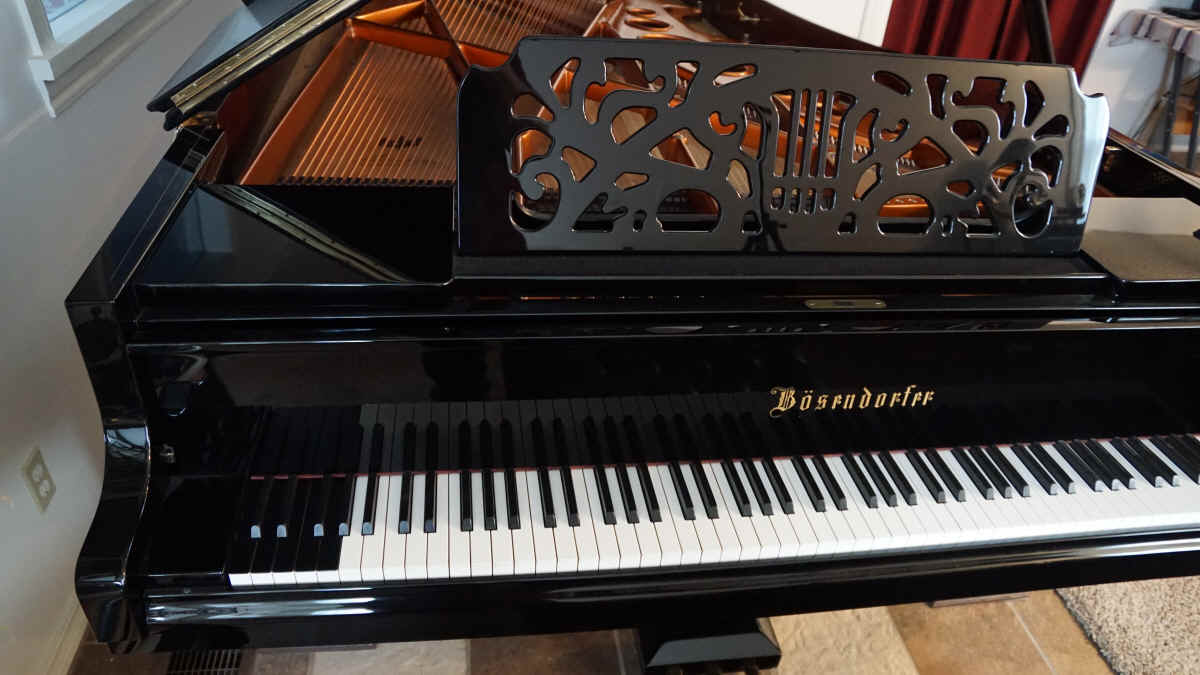 It was autographed at the factory by the great French pianist, Philippe Entremont.
Strangely enough, the first piano record I ever got, way back when I was a kid, was by him.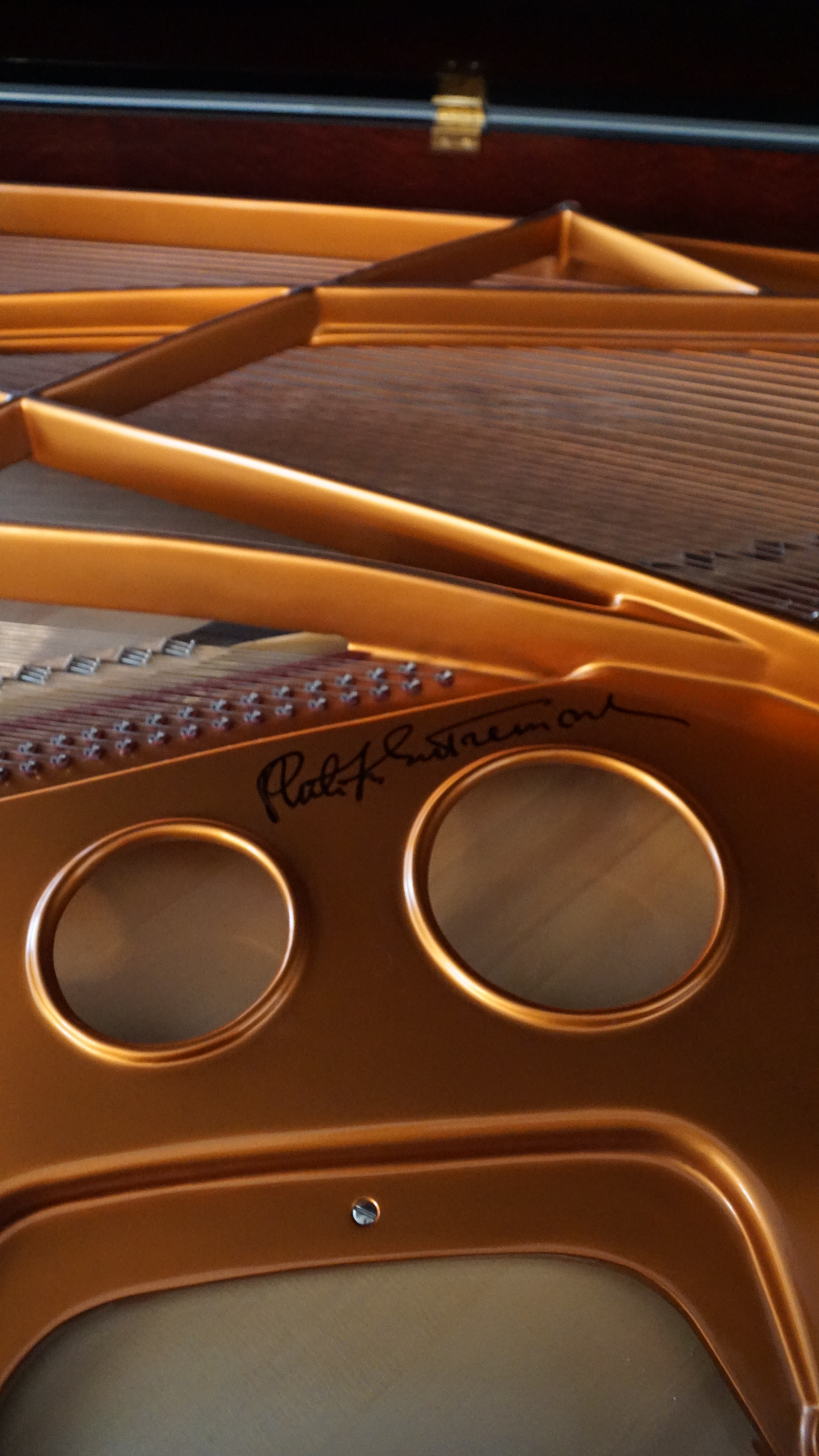 I also have a Lyon & Healy grand, made in Chicago in 1923, which I restored. Lyon & Healy was a famous piano brand for decades, but they ceased production long ago.
However, they still manufacture fine concert harps -- they are the largest and most famous harp maker in the world, still in Chicago.
This piano was in such terrible shape that I got it for free, and hauled it from San Francisco to Oklahoma in the back of my truck.
I stripped off all the old scratched-up black lacquer, and found out to my surprise that there was mahogany veneer under it. I sanded it for hours, but the color could not be restored.
So I put on 2 coats of black wood dye and 2 coats of black wood stain. Finally I smeared on 3 layers of tung oil by hand.
It may well be the only piano you'll ever see that is solid gloss black, but clearly shows a wood-grain pattern instead of having the usual opaque black lacquer found on most pianos.
I put a lighter-colored veneer inside the grand curve and on the underside of the lid. Then I replaced all the bass strings, all the dampers, all the felts, and the name plate.
But in spite of all that work, it still sounds like some old honky-tonk ragtime piano!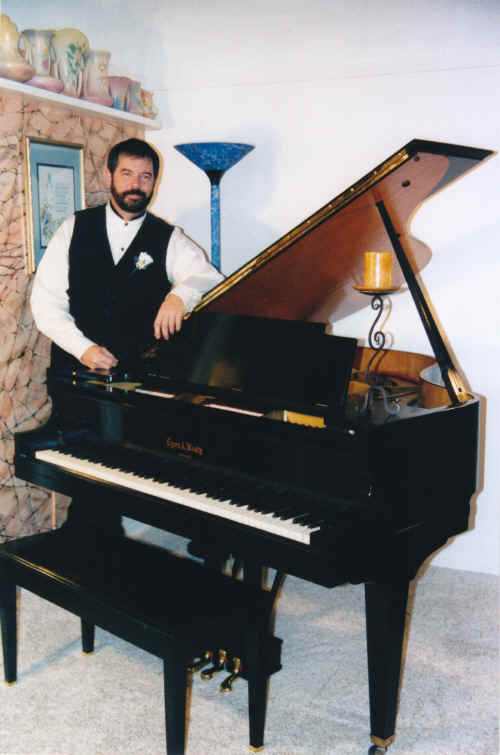 That's all!
The end.
Galen
---